(How can you make 53 asians all smile at once?)
It is almost as if last blog update in December was a different world ago. Such is life while serving in a third world country. For example, according to a recent survey it stated that Indonesia is which of the following:
a. One of the most religious countries in the world
b. One of the most corrupt countries in the world
c. One of the most vulnarable countries to disasters in the world.
If you answered d. all of the above you would be correct.
Since we still have the rest of the alphabet to catch up on, let's do this in sections.
PIONEER DAY
This was sometime back in December. Amazing. Really is. With the special pioneers and regulars we were about 45 or so. Thats 45 pio's for over 3000 islands, 1.5 million + people. Pioneers that are brothers are about 7 or 8 of us.
In a certain way, this is why need-greaters while not missionaries do bring benefits to where they are serving. It took 10 minutes to get people together for a picture. Then everyone is looking quite stone faced. So,,, I thought about how I could lighten up the picture?
I put the camera on the two-second auto flash. Then you here everyone yelling for me to 'RUN FAST it's BLINKING', but too late.
But, EVERYONE was smiling.
The second time was close enough. To be truthful, I knew it was probably impossible to get back to the place in time but the benefits are getting everyone smiling and laughing together. Foreigners seem to bring an extra slice of life to where you serve.
2 DAY ASSEMBLY
Good as. Quick story. Our D.O. was a sub. He is around 40, only been pioneering like 15 years, baptised in 1989. Quite young, but quite enthusiastic. Funny thing is that he is looking after the SL group in Jakarta. He was NOT a big SL fan. Well, the deaf in Jakarta worked him over.
Next thing you know, Bro Harris is signing. He went from hater- to - player. In his last talk he had at least 15 signs. Never mind his expressions.
(Honestly, almost didn't need an interpreter for him)
PIONEER DAY FOR THE CONG
Then we had the pioneer day with the local body of elders. They were going to do it at the KH which is OK, but it's nice having a homey atmosphere. It was a real privilege as the brothers and sisters agreed to have it at my home. It is far for most of them, but we all laughed, had a bottle of anggur, listened to the ocean, and ate babi which is pork and quite expensive here.
(Awww the pioneers)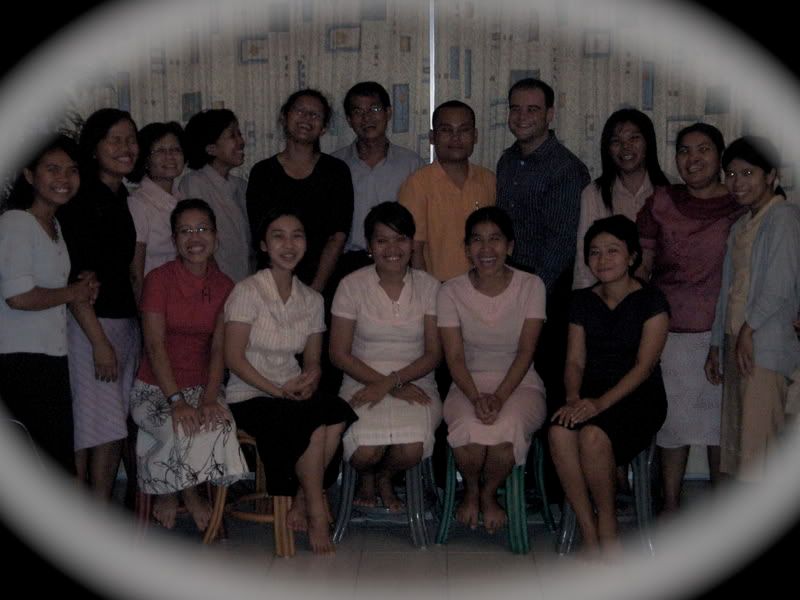 ASSOCIATION
Public Holidays are a reason for the friends to get together and have a good time. On New Years Eve there was about 40 people who came over. Honestly, I don't know how they all ate, had plates, silverware, napkins, used the bathroom, but they did. Amazingly simple people.
(New Years party? Can, cant?)
Thing about that day is that 22 slept over. Again, how they all ate, had plates, silverware, napkins, used the bathroom, had a pillow, blanket is beyond me.
3 KITTRICK'S IN INDONESIA
Dad and Mom came out to purchase the house and visit the first born. I wrote this before, and will reemphasize it again. If you have a child, cousin, parent, good friend, who is serving overseas in any capacity such as miss, BIFF, construction, need-greater, etc, your visits mean A LOT!
It's nice for you to put faces behind the names, feelings behind the actions, and tastes behind the foods. Then for the local resident it helps them to see things fresh and new again. For the local friends who could most likely never afford to go to your country, they get a taste of the brotherhood.
Because we did so much, I won't even get into Batam stories with them but explain the trip. I will say my electricity bill quadrupled that month.
(Dad still can't smile after 50+ years, Mom is always beautiful for photos)
BATIK
Mom likes Batik. Indonesia makes Batik. Solo founded Batik. Mom visit's Solo. Batik no good.
I am actually still processing this one. THE FOUNDING CITIES of Batik (A Indonesian traditional clothing/fabric) did NOT have what my mom wanted. She buys it in the states, but here they didn't have it. Yes, Mom, i know Balinese Batik.
Anyways, it was quite interesting to go search for it. It was great watching my dad 'go with the flow.' I guess after 30+ years of marriage you have to 'go with the flow' or you 'go out at with the trash.' Dad, thanks for teaching me the 'gift' of singleness.
(Fields of Javanese Green Gold)
JAVA
We need to thank the amazing hospitality of the brothers and sisters who reached out. The photo above is from Central Java. We had brothers and sisters go so far out of there way to take us around, drive, eat, communicate, etc. Eko was a great tour guide. Thanks bro~
Eko and 2 sisters took us to go see Borobudur which is on the world heritage sites. It is quite a spectacle. We had an talkative tour guide who got as many questions as there are stones from my father. Then the Indonesians selling tourist goods on the outside is relentless. I mean, wow. They make the peanut selling man at a baseball game look like a child.
(Flying at Borobudur)
JOKE JAH = Yoyjakarta
I wanted to give mom and dad a true perspective of how everyday life is here in Indonesia.
(Well, if you can't afford a car how would you get to work?)
Bad son, or good son. Well, it is true that i wasn't actually the best a son could be. I didn't lie but, well... It's part of the cultural experience.
We ate porcupine, goat, eel, frog, and...
(Original _________ and 4 _________ of the apocalypse)
So after eating some barbeque snake, and horse stew its TIME TO DANCE!
I will give this sister Rifka some credit. She is Indonesian which means normally a bit shy. She said she has always wanted to dance, but here, Indo's don't do it. Now I have been craving to dance since going to Thailand back in October. There met a fellow American and we related good ole salsa stories.
So after our feast of mammals I took the laptop and started the Spanish dancing class. To my mom and dad's credit, they do like to get down a bit and have some fun. Honestly, my parents are so opposite in so many ways and really not matched for each other, but when it's time to have fun and do a little dancing they are not shy. Even though dad has like 37 hernias and bad knees he can still bust a move. Mom has rhythm. In fact she wanted to teach them the electric slide.
(I KNEW there was a reason I have saved the electric slide mp3 on my computer)
The next night after teaching a fourth sign language workshop in 4 days it was off to watch some traditional Javanese dancing. Really nice. I can't compare it to Hawaiian Hula but it has many principals of the body telling a story.
(Traditional Dancing)
BACK TO BANDUNG
Wow, skipped so much. Waterfall's, getting chased by wild monkeys, tea fields, the eye doctor medic, floods, fried duck on the street, losing passports, and SO many sign language stories.
This is the Information Overload blog, so we just got to keep moving.
Bandung was the a SL group formed way back in 2005. For some reason they have progressed faster than any other city. Would you like to know why????
(Brother Yoda will be talking to us about the Holy Spirit)
YES, BROTHER YODA. We were all wondering how Bandung has progressed so fast, and then it hit me when I visited. They have YODA, the force is with them.
I have not given this too much fanfare but Bandung has become Indonesians first Sign Language congregation. BUT< it's not really a congregation. It's a Sidang Kelompok Bahasa Isyarat. SKBI. That means Congregation Group Sign Language. Hmmm, were asking interpreters to help us.
IT IS A GOOD THING!!!, but a confusing one. They have all of there meetings now done in full sign. Meetings, field service, publisher cards, body, EVEN have started to pre-translate the WT on DVD. Truly remarkable.
I was so encouraged by visiting. A Sign Language congregation, or even just having full meetings in the language are really indescribable. It must be the force.
(Bandung the first SKBI in well, the world? Maybe.)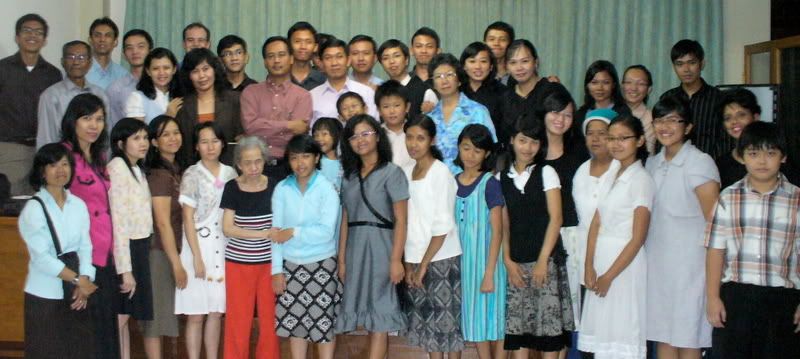 Oh yes mom and dad. They get apparently the best massages of there lives while in Bandung. At least the most powerful. Some little Indonesian brother for $5.00 US worked there aches and pains for 1 hr 30 min. My dad said that relieved injuries that he suffered nearly 25 years ago.
I as always enjoyed Bandung's natural hot springs whilst having a glass of bubbly.
JAKARTA
Joice, Simon, Daniel, thanks a lot. Was good to be reunited. Floods closed down the airport, what else is new in Jakarta.
They have a revolving rest that goes around the city of Jakarta. If your in town, it's worth the visit. Again, me and my mom got down and did a little dancing on the 40th floor.
(Jakarta's Night Lights)
After writing all of this, and realizing how much more that I have not written, well I'm quite happy. Why?
My parents for late 50's did really really good. We stayed with complete strangers, had floods, ate snake, traveld a ton, lost personal items, and on and on.
I told them thanks for experiencing the way a lot of my life has been over the last 5 years. You never know what today will bring. Tomorrow will bring something completely new again. It's enjoying the spiritual parasdise and doing Jah's will that brings that inner happiness.
JORDAN
My sister came. Wonderful time. Good to see we had both grown up. Everyone thought we were married. She got checked out more than baby polar bears at the zoo.
Jordan and I basically preached, and preached, and preached. She had random people coming up to her and asking to take her picture. We also had a party and played the 'Golden rule game' which everyone wanted Jordan to sing. Then we had an open aired acoustic gutiar and drum night which was fun.
(I think they thought she was Paris Hiltons sister)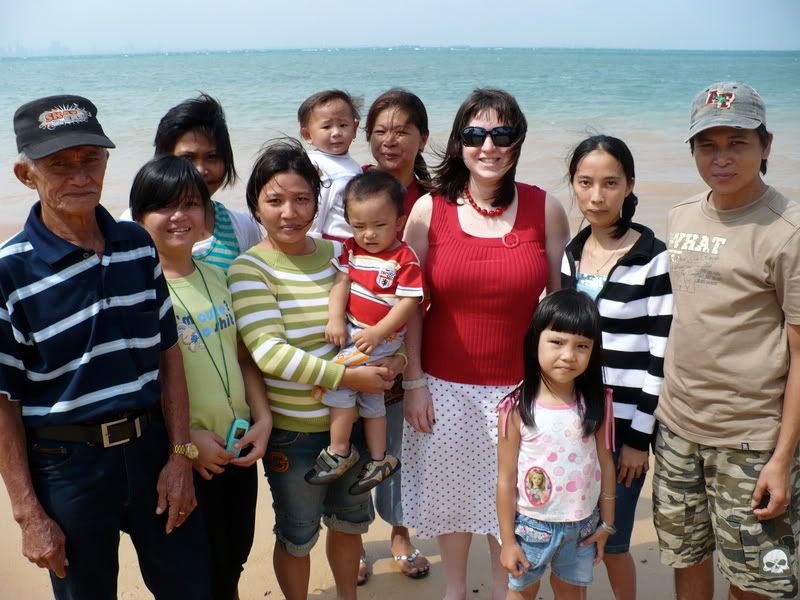 The stories though were really about preaching. We just received new territories that were not being worked by another congregation. So I took my old man's van and packed in 12 people inside. Jordan placed a good amount of lit including a BTEACH book with a certain head covered woman.
(12 Indo's in a 7 pass van, NO PROBLEMO)
We also went a to the most southernly point that you could go to do some ministry. Really nice day. Had some great stories to catch up on about life and RI.
I think the best part though was eating our lunch here and being able to preach at the same time. (keeping the time going)
Jordan I think liked the bathroom which consisted of a hole in the wood over the ocean.
(Fried shrimp at Paradise)
Jordan loved fried noodles and avocado smoothies. Jordan thanks for coming. Nothing but love 4ya key... lay
(Jordan and me happy as ever)
On a personal note, the above mentioned pioneer day and 2 day convention basically has cost me my job. Not the only reason, but I declined semi-mandatory work which was the same time as the assembly and pioneer meeting.
I am in the same situation I was back on the blog on February 28th 2007 blog on VOLCANOES, DRAGONS, AND ORANG TUNA RUNGGU. It's funny I wrote that blog after losing my job that day. I lose this job tomorrow.
What does the future hold?
SIGN LANGUAGE
It would really be a shame to not mention the progress of SL in this Information Overload blog. It all started 4+ years ago in a small class of 7 students in Jakarta.
After scratching, crawling, hanging, sweating, pushing, fighting, submitting, and preserving we can look back and see Jehovah's blessing. Jacob wrestled with an angel, and I think we have a few cherubs to get through.
January saw the first independent congregation/group as mentioned for Bandung. Jakarta and Surabaya have followed up with it as well. We are at the verge of getting stuff ready for translation, but that is still is a few adjectives ahead of us. Although seeing the young guys in Bandung pre-film the WT was a tear of joy.
Doing the old workshop that had been on the shelf for nearly a year was such a blessing. The central Javanese cities of Salitiga/Semarang, Solo, Yoyjakarta (2wice) all were happy to have it. Each has progressive deaf studying and attending the meetings.
Many were new, but some you could see just GET sign language. We have been playing a lot of email-tag here in Indonesia about SL. You can feel the excitement. With a video in the language we will just pop! Behind the scenes there is a lot of hard working brothers and sisters. There are numerous sacrifices of many of the brothers and sisters by leaving their family's to go to a Foreign Language Congregation. That is not following the traditional norm. Others travel nearly 2 hours each way to attend the meeting. Some have been worried about the intake of spiritual food in a ALL SIGN congregation.
So, just like last year where I was left jobless, visaless, identificaitonless, we in sign language know that the answers all work themselves out in due time.
Thanks for the prayers for the deaf and their assistants in Indo.
(~This is Indonesian Sign for how all of you make us feel~)