Anytime you have guests, it puts things in a fresh perspective...
For any that have traveled to a 'developing country' your photo taking most likely becomes like breathing. It seems every second is a new shot. Then it seems the longer you are in the country the lesser the breaths, the 'shocking, !look at that!, huh, life becomes. That being said, any time guests come it helps for you to see again what you were first in awe of.
Tom from Sign Language in the U.K. happen to come by. I had never met him, and that makes it even more enjoyable.
(Sorry Tom, it's one of those photos that makes people smile...)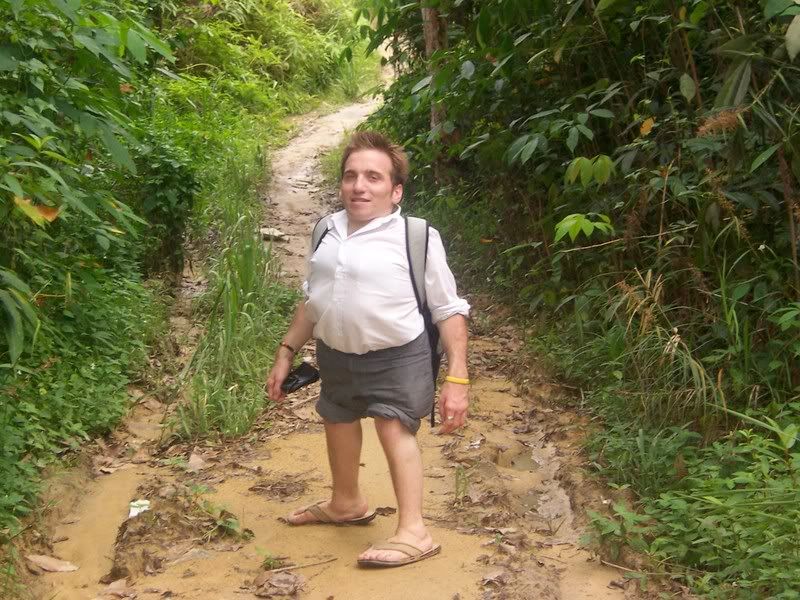 Tom was told that Batam and Indonesia was a dangerous place. Just come for a day, and GET OUT! So, I did what a normal host would do in a situation like that. Bring him to the jungle, get muddy, dirty, sweaty, have 'bird-flu' infected chickens running around, red ants, and yes a big snake.
Yusuf and Andre who are studying, were amazing hosts. It's so sweet to see people who have so little, to give so much of what the little they have. Pretty standard in any poor country.
(Well, there's no safety if there's no electicity)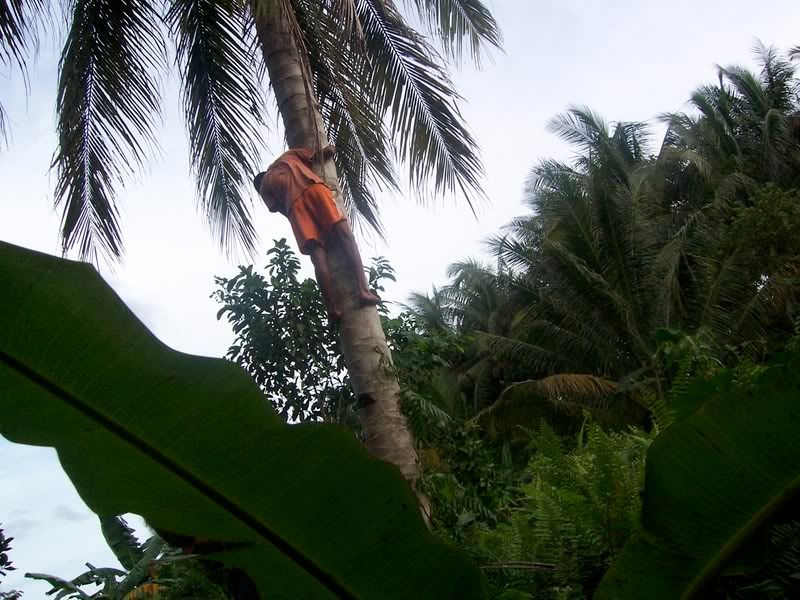 That is Andre climbing about 25-30 feet up to get some fresh coconuts. I don't know if you have ever had real coconuts fresh the tree, but it is a good time. When they cut it up on the ground, they cut a small piece of the coconut in the shape of spoon so you can scrape out the inner flesh.
Yusuf who is 72 years old, said that he can still climb small ones, but he has they young boys do it for him now.
During the study, Tom talked about the brotherhood and recent stories from preaching in the U.K. These stories seem to really touch Yusuf and Andre.
Now, the snake(s). It is bewildering to me that Batam which houses 1,000,000 people and is just 45 minutes from arguably the most advanced, clean, and organized country in the world from end to end would have a large 2 meter plus (7 foot+) pythons rolling around.
(only 7 feet long)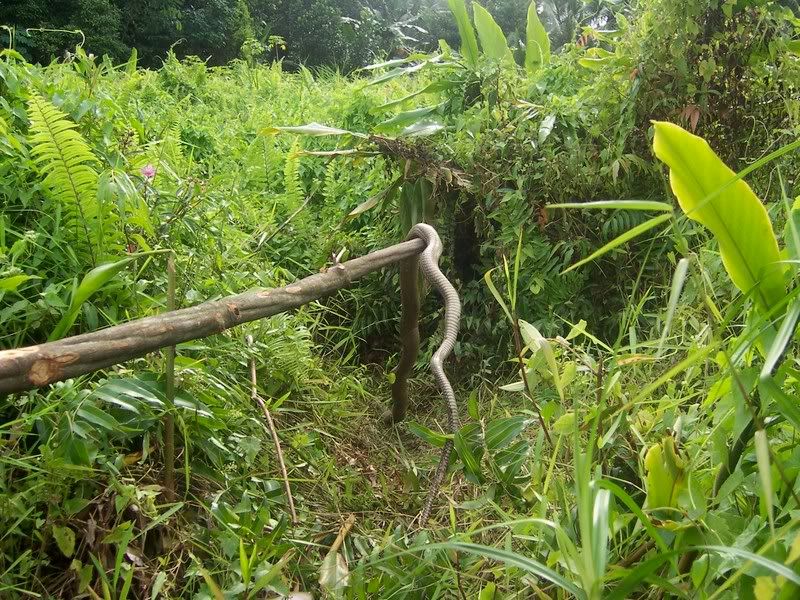 They caught the snake in the simplest of a little trap, and when they saw it, the bashed it around 10 times with a huge stick as shown in the picture. Even though it was a day later they still stood back 10 feet, as they were afraid it was still alive.
Any time locals are a little scared, you know its a serious snake. They said it could easily get in the village and kill a man. The other big 7 to 8 foot snakes which are non-python can provide for a good bbq dinner. "Law of the jungle." If it can't kill you, eat it.
Glad you enjoyed Batam Tom.
Well besides jungles, we preach small illegal housed villages. In this village while doing Saturday preaching we came across a Javanese woman who was losing her hearing. Although Javanese Indonesians are more reserved and shy by nature, this woman was absolutly hilarious. After telling her we want to help the deaf, she starting thinking, and well next thing you know theres like 10 deaf people in the village.
With some clarification from other locals, our dear Javanese friend is a little off. One person whom she thought was deaf, was not the case. Another woman said, "HE'S NOT DEAF, he's MALAS BANGUN!" -or- he's just lazy and sleeps alot.!
(Who has the bigger smile? Merry the monkey, or java mama?)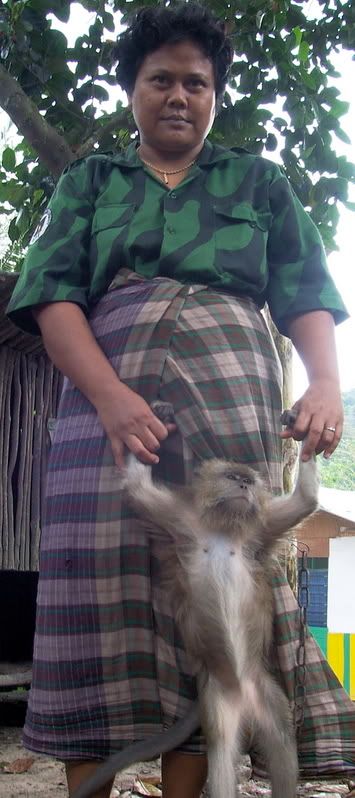 One thing that this woman did have though was a pet monkey called Merry. Why, How, Where, i don't know, but it just fit her character.
While preaching in these out of town areas you can really get to know the other brothers and sisters well. Edy and Ramses where with me this day with Java mama. Indonesians like posing for photos.
(Ramses, Edy, and Buah)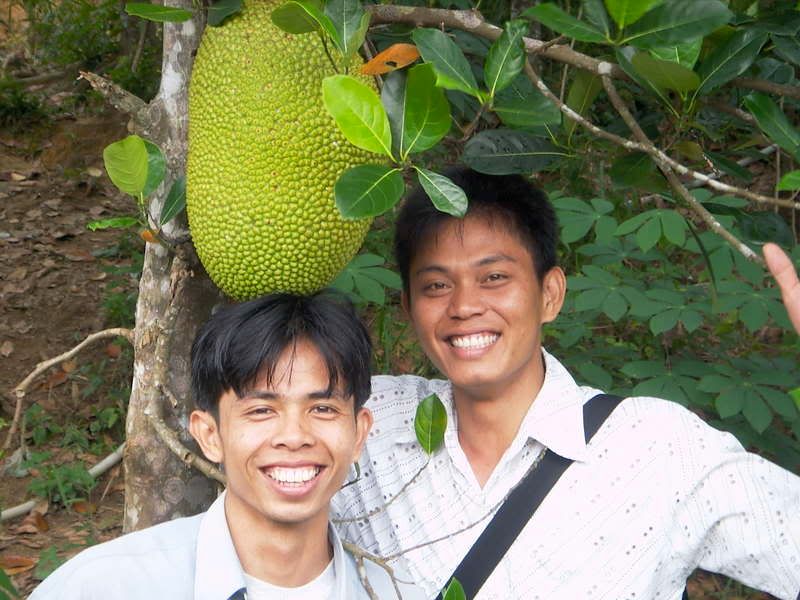 There has been about 4 weddings since the last blog I wrote. Indonesian weddings are quite simple. They get married, go to a rented hall/restaurant/or someone's house. They make a really fancy backdrop for pictures, everyone gets called up and takes some pictures with them, you eat, then leave.
Honeymoon? I have not heard any more than 2 days of vacation from work. Normally you will see them the next day at the meeting. Also the honeymoon night, many times there back to the house they were at before with the family there. Then 9 months or 10 months later there will be the first little one.
(Glazzy and Snazzy)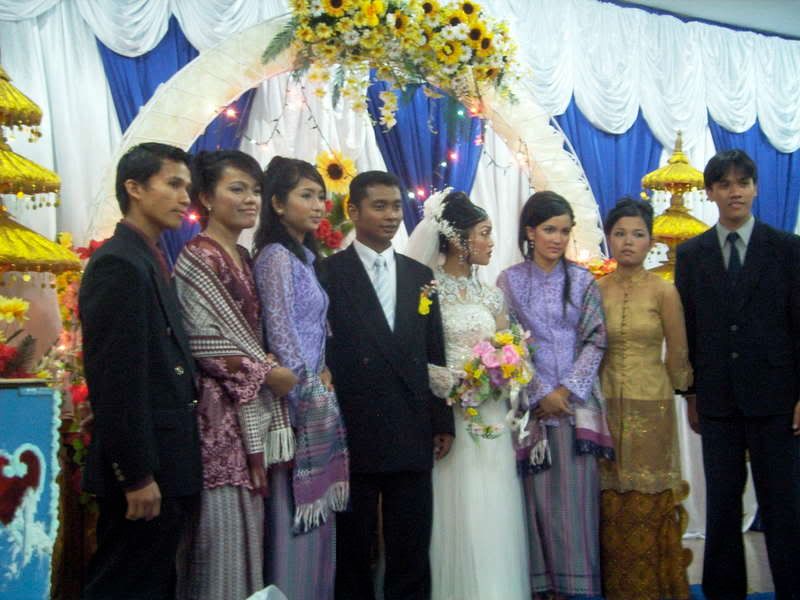 (Smile for the camera)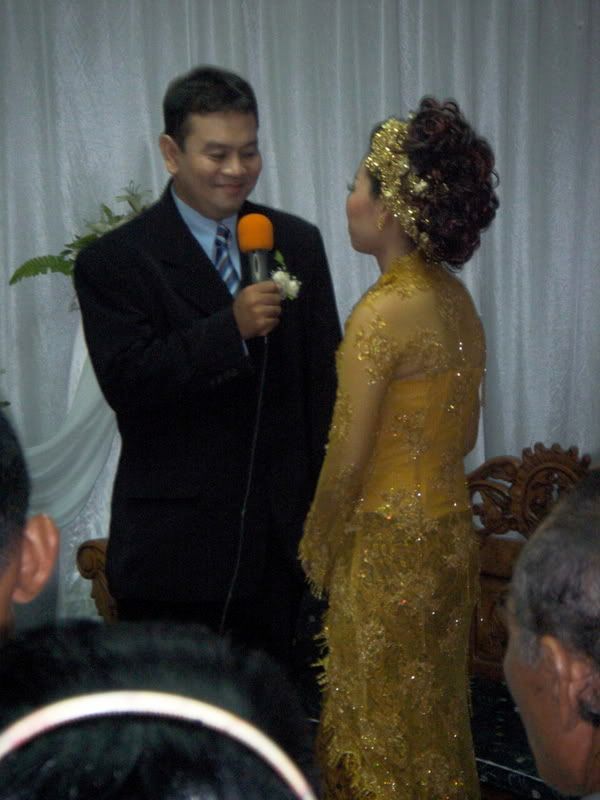 This wedding was in a village close to my home. A Kampung is a village or 'el campo.' This village is all muslim. As a neighbor to them it promotes a good witness by going and showing your respect. When there's a wedding in the village it's an open invitation. 500-1000 people is no problem. You shake a hand, smile, take a picture, eat (possible karaoke) and leave.
At this wedding though, they had live entertainment! This is about as traditional as it gets for this area. It's a pretty neat little song they have going on.
(Kampung Wedding)
Back to reality...
There is so much I could say about this picture. The jam is due to deforestation, rain with no drainage points, and corruption in gov't by never attending to it because there is no rich or important people living down this road. It led to the meeting starting late, and making some changes.
Three hours later In typical indonesian fashion, there were 2 guys shoveling to block the landslide and another guy taking donations for there work doing what the gov't should be doing.
(Typical... Traffic Jam... but i will take this any day over Jakarta or jammed on 95!)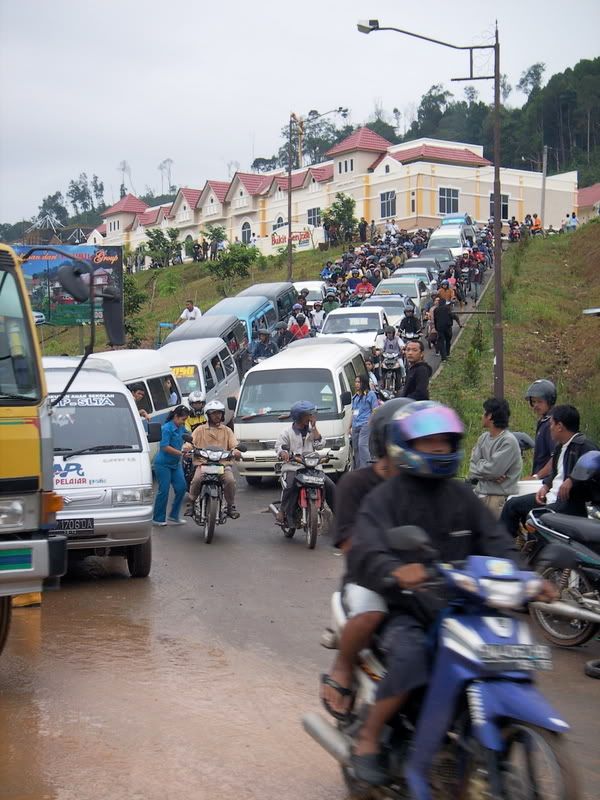 Besides Tom from the UK I had Marlon and Carmen from Philippines Bethel pay a visit. Really super couple, so sweet. We interviewed them via translating during the part on young people a month or so back. It was really powerful what they had to say about the youth in the Philippines, and Carmen's own struggle to become spiritual in her youth. Our congregation is made up of 75% youths who mainly work full-time. What they had to say was all about the joys of spiritual goals over worldly ones.
Congo with Filipino guests (ummm, Filipinos look just like the Indonesians)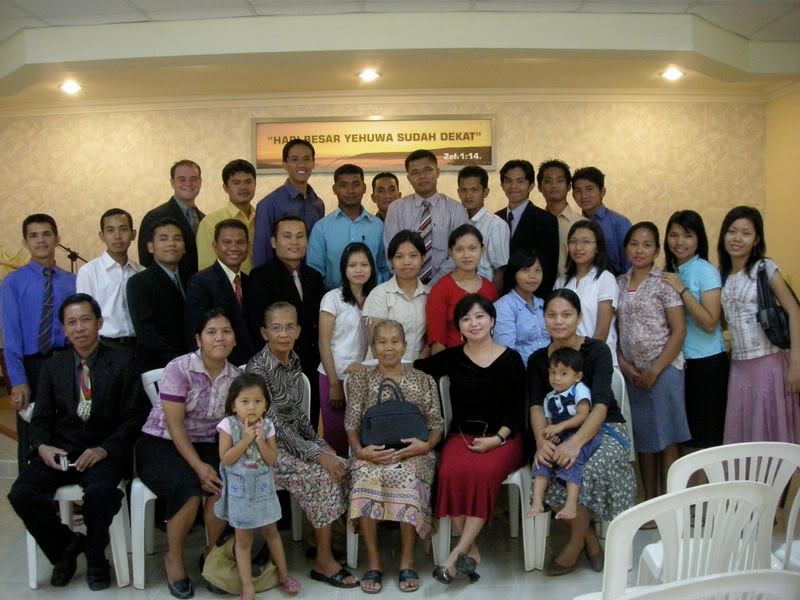 Well, it wouldn't be complete without a picture of Jah's creation. This is the view from the beach across the street. Nothing like it...
:Morning Sunrise: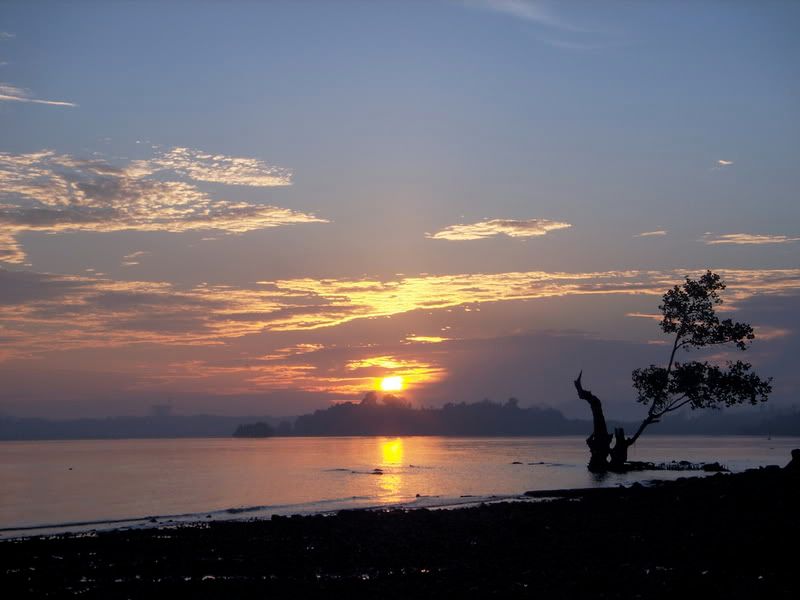 So, that's that. Some good stuff from the pioneer day, assembly and the first Independant Sign Language groups I'll share by the end of January. TK