Kurang! Not enough.
Not too long ago was an article explainging how if you want to move to a foreign country you should
a. Try it out first.
b. Make plans to go long term if you indeed to choose so.
So true!
I passed the year mark here in Indonesian a few weeks ago, and although all together I have been in Indoneisa around a year and a quater, you really feel there is so much left to learn. I am just now getting some of the idiosyncyresies sunken into me. Starting to really get more out of the meetings, and getting the culture figuried out a bit.
I do feel like this is home. Which everyone says is key. But, it's really true. I loved the New England summers, friends, and activities, but it almost feels like a past story that once was...
So instead of recapping the last year, I am going to patch up the things I missed.
-------------------
Sign Language
Back to February. The zone overseers visit.
Yes it was great, seeing some friends who I havn't seen in 3 years. Amazing those missionaries that I learned Indonesian with will be coming up on 4 years this February! All are still faithfully serving here.
But for Sign Language it was a reunion of sorts. Many new ones that I have met doing the workshops, others since the start, others new to the game. But, it was touching. Here's the video.
(Well 7 months late, but still pretty)
What else about Sign Language?
Really too much. Were up to 16 deaf baptised now. This year that has gone past has helped 4 or 5 come in the truth.
The Jakarta group which was first formed in April of 2004 was given the approval to do a trial run of the whole district assembly program in full sign language. This was at the nationaly indoor stadium in Jakarta. At the same time there was the the English program as well as the Indonesian. Unfortunatly at this time I was at the wedding and not present, but I did recieve a nice picture of the deaf publishers that were able to attend. ALL of them said how much clearer the program was and easier to understand by doing a FULL SL talk and not interpreted.
(That's still without a publication)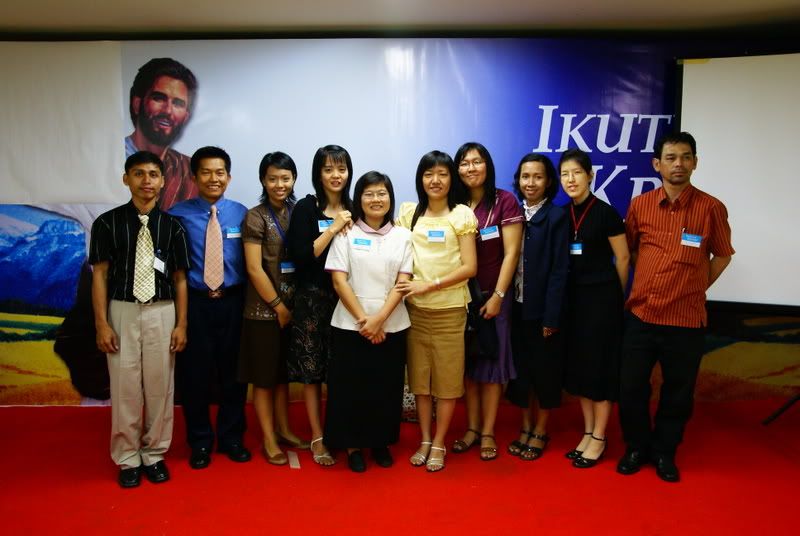 Other SL news. We just updated our curriculum for teaching SL classes. What a great/busy week! Joice who is a special pioneer specifically for sign classes, came up as well as Herman our deaf brother and some other brothers who have the concept of SL down pat.
They helped interpret that week, and the local friends loved it. We not only had the c.o. but there was a new arrangement for SL ,
that was explained to us. Without going into details, the letter from the organization is a huge answer to our prayers with better organizaton for SL especially in a country like Indonesia where this is still a relatively new thing.

(48 at the meeting with 8 deaf... An improved difference then a year ago)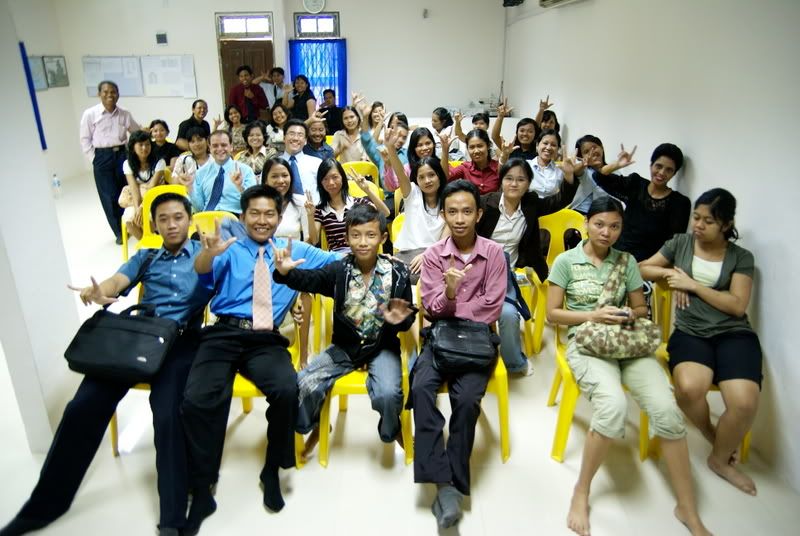 --------------------

Kingdom Hall Construction

I promised a while back to tell you about some of the things that happened with construction under the lands with limited resources project. A promise is a promise.

I lost my job February 28th. March 1st started the project. Go figure. The hall went into planning stages such as searching for land, all the way back to September 2004. The project took some 3 months to complete. Now 3 months may seem like a long time construction wise, but in this part of the world, that is extremely fast.

(The official video. (Sorry was made for a projector not for the internet. Some pics will be very small)




Many of the brothers and sisters (actually nearly all) have to work full-time. Besides the construction team from Bethel of 7, there were 6 others that were there everyday of the project in some form. A handful of brother's either quit their job, or took huge pay cuts so they could be at the project daily. (Sunday's were off for meetings and service)

The community definitly noticed. There is a church at the adjoining property that you can see in the second picture of the below movie. That has been under construction for years. The church goers would see are building go up and up every week. Some made positive comments. Others, including the school were really impressed. Many contracters who we bought supplies off were baffled by the fact there was no "boss."

Others were dumbfounded to see people of different Indonesian tribes working together. And of course, when they saw the foreigners, they all thought we were the bosses, and why would we be working with the locals. Lastly was the workmanship. The quality of the work was well reported on. That it was not a hack-job, but true quality.

What was really special though was the friends. The association, the brotherhood.

(The surroundings, the daily life, the people)




I had no idea that Indonesians loved volleyball so much. It became our pastime. Either chess, sleeping, or volleyball! It was one of 3.
This was after work one day. The project was moving along, we had lots of volunteers that day, and as usual someone had a guitar and a song book. This was spontaneous, and I'm glad I was able to capture it. I know you will enjoy it.

(After construction all day, this is what we do)



Time for the dedication. Nearly 4 years after starting to search for the land, two years to get the permit to build. Then months and months to get approval from the dept of religion, then to actual get the approval from the branch, start building, then you have the dedication. PHEW.

A member of the branch commitee came, (who happens to be overseeing SL) and gave a inspiring talk. He mentioned how the truth came to the island of Batam WAY back in 1988. That's actually a long time ago Indonesian standards. It was a special pioneer who came, and then others followed.

There are now 4 congregations on the island, with a SL group. He mentioned the growth still continues in Indoneisa as we had a new peak publishers of 20,508, and over 50,000 at our memorial this year. So another 5% growth in the country. He menioned the missionaries, construction, and how Jehovah is truly supporting the work through his power. The brother broke down the verses in 1 Samuel 12:21-24.

We had a gorgeous day, and 200+ at the dedication. Seating was inside, and outside, with a slideshow presention and some snacks after.
One nice comment from a visitor who is the boss of the Presiding Overseer and happens to be a foriegner told me the following. "What really suprises me is the quality of the work here. It is nearly impossible to get quality work here in Indoneisa. Also, Rino (P.O) came through on his promise. He said he wanted to work half days for 3 months. We worked out a deal, and low and behold at 3 months it was finished! I couldn't believe it! He stuck to his word."

(212, quite fitting isn't it)



---------------------

The People

I can't not reflect over things I have missed explaining on this blog without saying how unique the people are. It really is one of the best things about learning a language, is learning the life stories and experiences of a people from a different background and life then you had.

Take Daniel for example. He has been in full time service around 20 years, and serves at the Branch for accounting. He gave a brief experience about what happened with he was a special pioneer in an eastern province of Indonesia in the late 80's. Being a special pioneer in a country under-ban was not a walk in the park.
Someone called the police on him when he was in service. They arrested him, beat him, beat him, beat him, until he said he ate some of his own teeth.
He spent 13 months in prison. Every monday was beating day. They used to beat him, beat him, beat him, till they couldn't know more.
He was thrown in solitary confinement with no light, no windows, no nothing for over a week. He told me he just sang kingdom songs. He also mentioned the whole time they used to beat him, he felt no pain. He felt calm as he know Jehovah' spirit was helping him.

(Woaaah, thanks for the encouragement)




Most of the brothers and sisters do have some type of story. In my area, most are new in the truth, which means many don't have family in the the truth. So they have a story. The longer ones, have lived through the ban. So they have a story.

Your average Indonesian has something there up to too. Some, its just searching for how to get some rice. But no matter what happens, there's not a day that goes past that some random person will yell. "HELLO MISTER!"
If your white, and a male, your going to hear "Hello Mister," minimum 10 times a day if your out in public.

You never know what your going to see.
Floods, 5 people on a motor bike, guys climbing up telephone polls, people stealing underground cables, people washing there clothes in dirty water, or the following picutre.

(Um, ya, )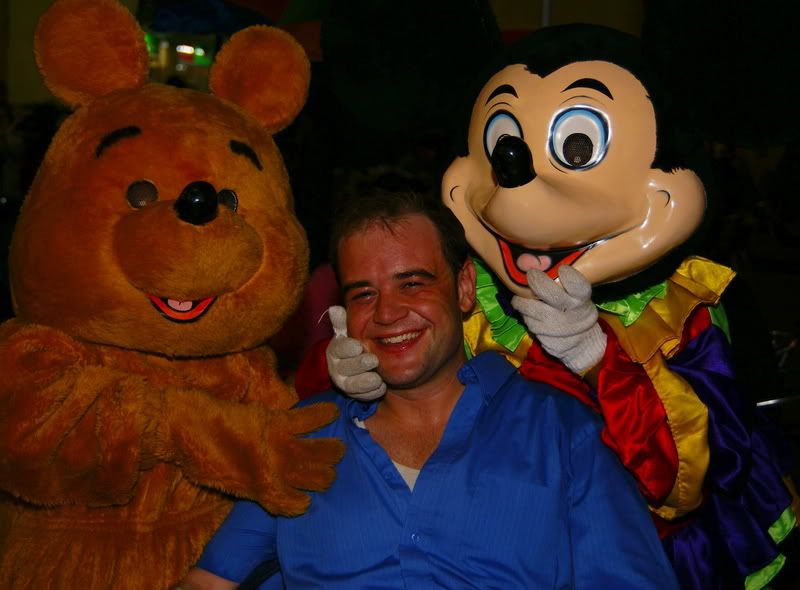 You just don't know when Mickey and Mr. Pooh happen to pop up when your eating fried rice and crab.

----------------------

Sum Up

So it's been a year. A fast year, but a year none the less. I look forward to seeing how Jah's spirit continues to work with us in this unique field of Indonesian Sign Langauge. Over 3 million deaf muslims, with 4 million deaf all together scattered of 17,000 islands. For 0 offical SL congregations.

We have some groups REAL close to becoming congs, and from there, well who knows...

Thanks for the emails and thoughts, all the best, stay busy, and enjoy the ride. Cause the coaster is picking up some steam!

Tom