THE LAST CLASS… (for now)
Lampung is the southern most province on the island of Sumatra Indonesia. It is located right on the 'ring of fire.' Numerous earthquakes and active volcanoes still haunt the land. As is the typical case here though in Indonesia, the people are as beautiful as the landscape. I had been promising to come down for many months, but the opportunity didn't present itself until the special assembly day came up.
The local friends were amazing. They had a brother drive some 4 hours to the airport in Jakarta to bring me back the same way he came to the western most point of the island of Java. Their the brother Gunawan from Lampung took a taxi 1:30hr from his house, then the 2 hour ferry ride over to meet me in Java, then go all the way back that very same day.
(nice spot for lunch)
Gunawan was an expert at organizing and taking care of your every need. For those of you that know me personally, you know I'm not that tall, about 5'7 (5'8 when not slouching). Well, Gunawan thought all 'orang buleh's' –white foreigners- are tall. So in his bathroom at his house, he had moved the showerhead up a few feet. He also took his mirror off the wall and moved it up in preparation for me. That's planning ahead! He said laughingly: Tom, I thought all foreigners are tall, if I knew you were like us, that could have saved me some time!"
He had a Microsoft Excel spreadsheet of every deaf person's name, approx age, religion, what publication they were studying, and who was the person teaching them. All 34 deaf studies in a province that only had a 2 week crash course in SL, by 3 sisters who themselves had only been in SL less then 2 or 3 years.
So another workshop… He rented a projector, used his own business to cook up a meal for every student attending, and as well made 50 box lunches for the assembly the next day for all of the deaf and hearing attending the SL section. That's a lot of rice!
The program or workshop I have been teaching around Indo has brought me personally much joy. What joy is that?
When you see the friends get it… What that means is here they are, showing a willing spirit, learning a new language that's extremely raw and new in this country. Add to that the educational level is so low and limited. Theirs no local brothers and witnesses who come from deaf families, have experience with deaf culture, or persons they can really meet to learn how to teach deaf people. Add to that most, had only 20hours of learning the language, and then are left to fend on their own.
For those of you around say ASL, BSL, AUSLAN, Italian Sign, LIBRAS, or others, you understand what I mean. What are we encouraged to do? Go in service with deaf friends, watch the DVD's and videos. Go to all the meetings in SL, conventions, have deaf over to your house. Study outside books, or videos about the language. EVERYTHING we are told to do for learning about SL the friends here in Indonesia don't have 1 of those options. NONE.
When I teach the workshop, one of the main points is to show them how deep this language can really be with your teaching. When they watch David and Goliath from the My Book of Bible Stories, or see how you sign Jesus walking on water, or Jesus pain as he was put on the stake, they start to say ooooooohhhh. Do they understand all the signs? No, ASL is definitely different. But the expressions, emotions, and character development are so clear in ASL that it almost transcends linguistic barriers.
While I have been to every spot now in Indonesia that has had a class, and I'm hanging up the backpack for a bit, I don't see it being long. While I was there in Lampung I received a text message from Manado Sulawesi of a sister with 6 deaf bible studies, and she has never even had a class or learned proper sign. One of her studies has already finished the Enjoy Life brochure. Other reports keep fiddling in of places in central and eastern Sumatra, Yojajakarta, eastern Indonesia, and even Irian Jaya (Papua).
It's nice to be a small part of the team.
(spec pioneers home for the masses)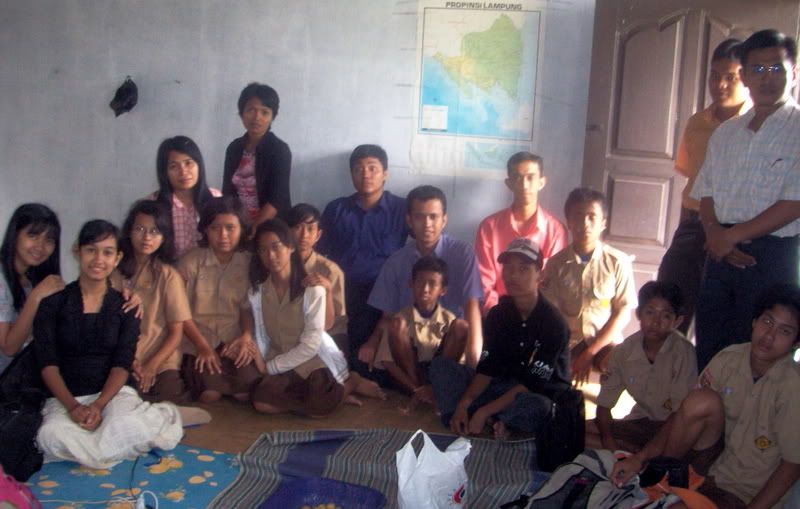 So, I'm a little off track. Sorry. The Deaf. Here is the home of two special pioneers who study with 16 deaf Muslims. Yes, 2 sisters who one took a 2 week class now have 16 deaf Muslim studies. This little house they rent also serves as a KH for two meetings a week because they are serving in isolated territory. So I was brought there to do a 'special' bible study. I had the NOAH DVD in ASL with all of the pictures and videos (as Muslims as well believe in nabi Nuh – the prophet Noah). We would watch a little, then I would pause and translate it into Indonesian Sign.
CALLING ALL SINGLE SISTERS…
What does that mean? Here is a great story for you to read if your still single and been trying to do more. Rifka is the sister in the picture below. Her mom and dad are both dead but her father was a Protestant Pastor, and mom followed him as well. Rifka's oldest brother got the truth first, and then it trickled down to all 5 of the children became Witnesses of Jehovah. How do you like that? Amazingly the father was not abusive or extremely defiant as he respected their own personal decisions, and was happy they were following the Bible.
Well Rifka was living in a city called Bogor in Java where there is numerous spiritual men and women who have been around the truth for a long time. She was 23 or 24yrs old praying to Jehovah to become a special pioneer. She told me: "every day for 3 months I prayed to Jehovah to become one." One day the D.O. was visiting the hall with the C.O. and he came up to her and said: "Hey Rifka, would you like to become a special pioneer?" Coincidence??? She only had a few weeks to pack up her things. She was sent to special pioneer with another sister who was 20 years older then her in the middle of nowhere in Lampung province, Sumatra.
(This is where she gets her water.(cooking, drinking, bathing, toilet) It's 60 feet down to retrieve it. (A little like Rachel and the 10 camels yes?)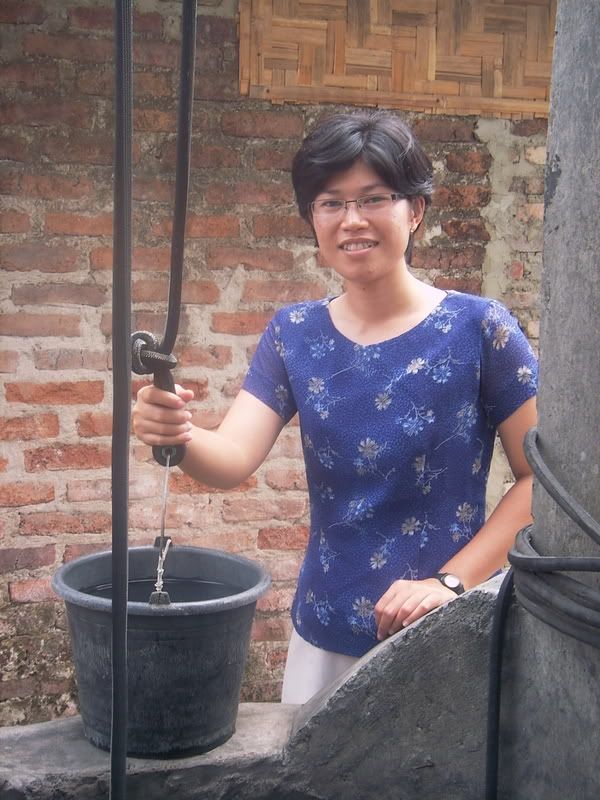 Well, she was honest and said the first year was very hard. I was around so many rooted brothers and sisters for so long, now it was just me and my partner. Even then, we were encouraged to work alone so that we could effectively reach more people in this isolated area. We have no running water, no T.V. have to cook all of our meals by ourselves. We don't have any type of recreation here, nor do we have other young people to be with. Our studies are sometimes hours away via a motorcycle taxi through the rice fields and mountains. We need to be home every night by 7 because their has been murders, theft, and sexual assaults on women here. If we walk out past 7 at night as a woman alone, they think you are a prostitute. We conduct one meeting, which is a book study with some studies. We do on Sunday take a 2-hour taxi ride to the closest congregation, do some service their, then make the journey back home. For the ($70) U.S. that we receive a month $40 of that goes for transportation monthly.
I told Rifka, well you got what you asked for, Jehovah answered your prayer! Two of her deaf studies took the 3-hour journey for the interpreted 1 day assembly.
--On a side note… You really do need to learn the local language if you travel to another country to help. Because if you don't, you lose out and all types of personal stories like these.
Well, after Gunawan had shipped me all around the province to meet almost every deaf person we could squeeze in a day and half it was time for the assembly. It was nice, 25 deaf came with 20 whom were Muslim. What was really special was many of the parents or relatives of the deaf children or others came.
(lampung's Sign Language section)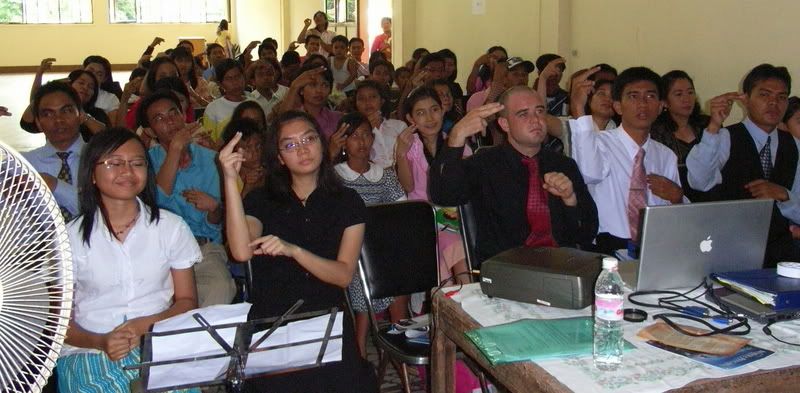 On Monday with Gunawan and the family, we went off to a nice little spot to enjoy some creation. (Romans 1:20) He told me it was good snorkeling, and I took his word for it. It remindied me of a spot in Samana, Dominican Repulblic where there is no one there, but a white sand beach, gentle palm trees, and mountain ranges in the background.
Under the water was a totally different world. I enjoy diving, and this didn't disappoint. There were these fish that were a copper/brown color with circular blacklight purple eyes that seemed to lite up like a nite-lite. Amazing. So much to see when we will have the time…
(don't forget the small things in life)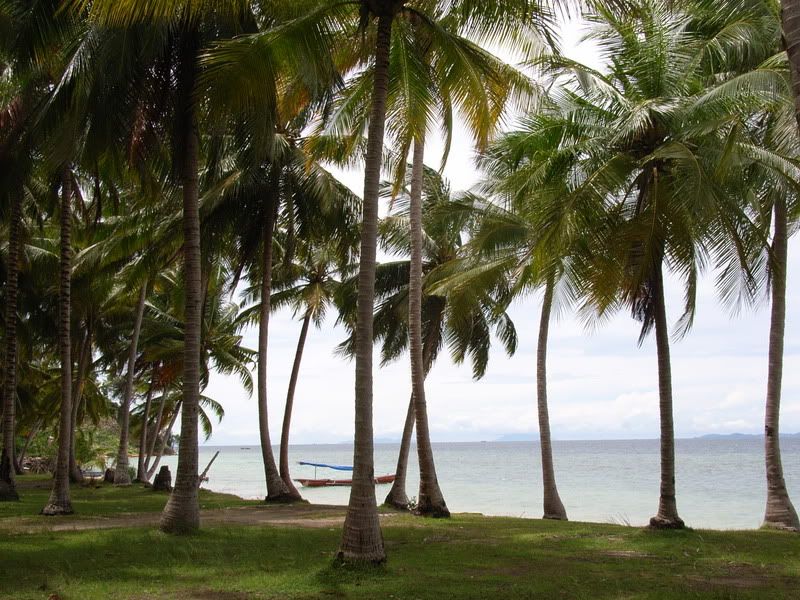 A quick trip
Last month I had to leave on a moments notice as my visa had expired. It was a treat though to meet up, and meet some new friends. I grew up in Connecticut and Rhode Island USA. So how ironic is it that here I am at a cheescake restaurant in Malaysia with 5 people from the Connecticut Chinese group in Hartford, CT. The very same group my cousin attends. The one couple though's assignment is local in Johor Baruh. So their 'old' friends were visiting them.
--FYI--If you have friends that are missionaries, bethelites, or need greater's that live overseas. It does mean so much to them to have a familiar face from back home come and see how they live. It's not the same as waiting for them to come back to their home where you live. They want to share some of the joys, food, culture, brotherhood, in their new place. If you can understand that, and actually see where they are, it makes a big difference to us.
(the connecticut/malaysia chinese crew)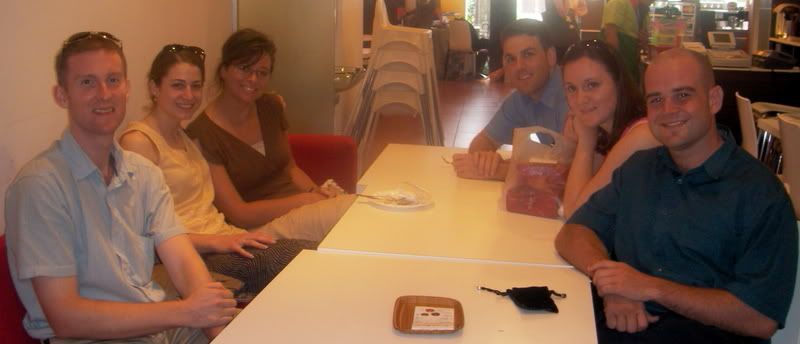 On that little visa run, I had a tremendous privilege very similar to 2004.
Prison.
This time it wasn't someone coming out, it was someone going in. In one particular country in SE Asia, all young men from 18-21 or (after school) are required to perform mandatory military service. So you know what happens. Off to prison for the JW's that don't comply.
I had met this particular lad, and stayed in touch. We met up for coffee, as I wanted to see him one more time before his incoming court trial and sentencing. I could write a few pages about this, but I will say is that it is almost viewed as an assignment. Its serving Jehovah is it not? They get fattened up before entering, but trials will come. The authorities are smart. Separate them and they will teach all the other criminal inmates. Put them together, and hope they break each other down.
The hardest thing about prison isn't the food, sleep, work, or lack of freedom. It's dealing with imperfections of your brothers. So it was nice to give some encouragement not only from me, but from some other young witnesses who happened to hear of his situation before he was sent off and I relayed them to him. 18-21 serving Jah in prison, …you have made the truth your own…
(see you when you get out)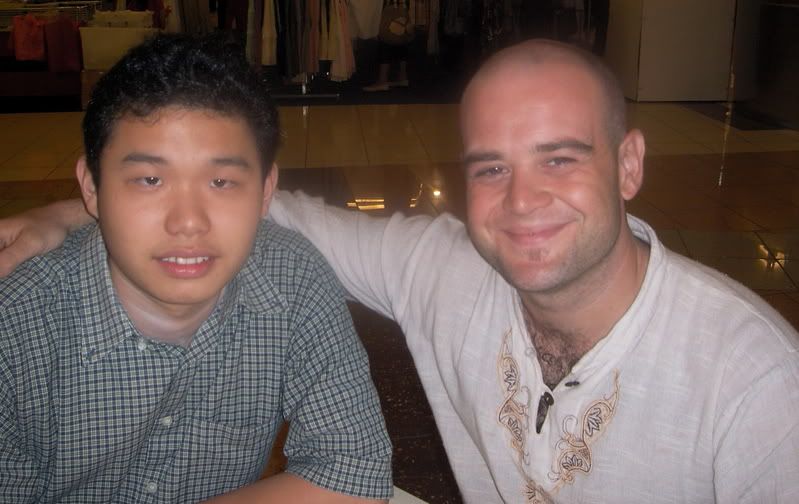 Back to Batam
Normally when we are teaching a deaf person here, we get all the fan fare. That being every young kid in the neighborhood seems to come. Its' so cute. All these little kids, storm into the house to see this foreinger teaching Sign Language. You never know where the seeds of truth will land.
(Kids really do teach you so much about life)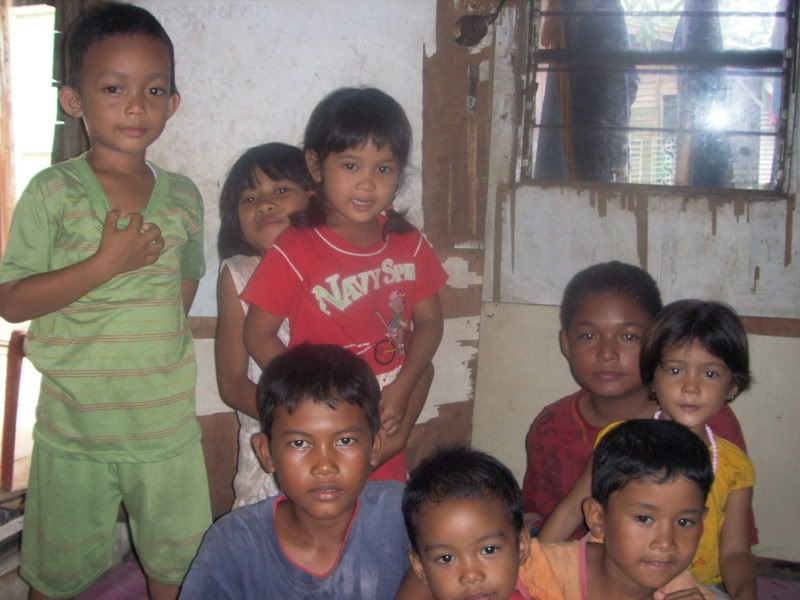 So yes Indonesia. Beautiful, pristine, and a complete lack of education on what cause and effect means, or 'you reap what you sew.' (Gal 6:7)
I just thought this is ironic. This is on the way to a deaf RV here in Batam and the sign says it all. We need all people to be 'taught by Jehovah.'
(the sign says: "don't drop your trash here) in indonesian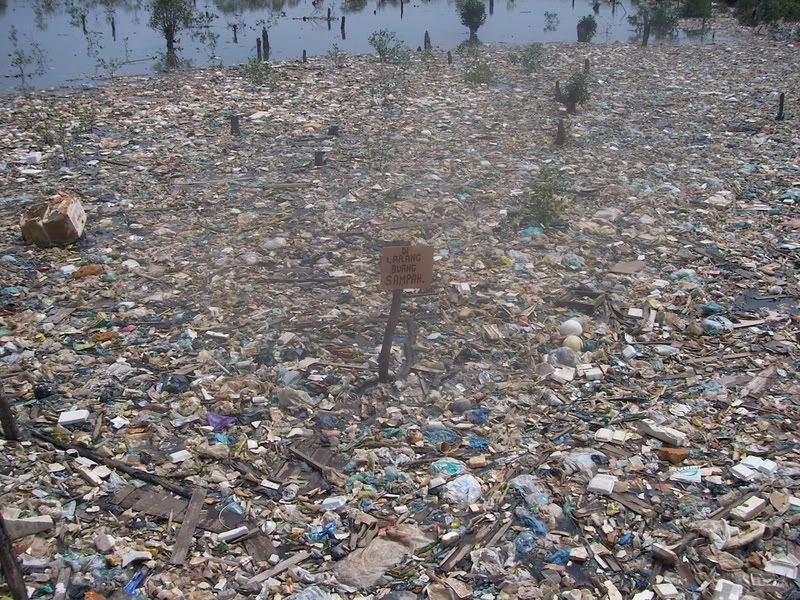 This is Batam as well. I was blown away. It was down a little dirt road I have past a hundred times, and a brother had that particular territory. Well, normally the friends just stick to the main part, but the adventurous spirit in me said to keep going. What we found was not only there friendly people, but landscape that reminded me of Java, and what the perception of SE Asia looks like. I had no idea we had rice fields, vegetable gardens by the acres, and little farms scattered across the countryside all on this island. So much to see-so little time, so many to preach too-so little workers.
(this is my island???)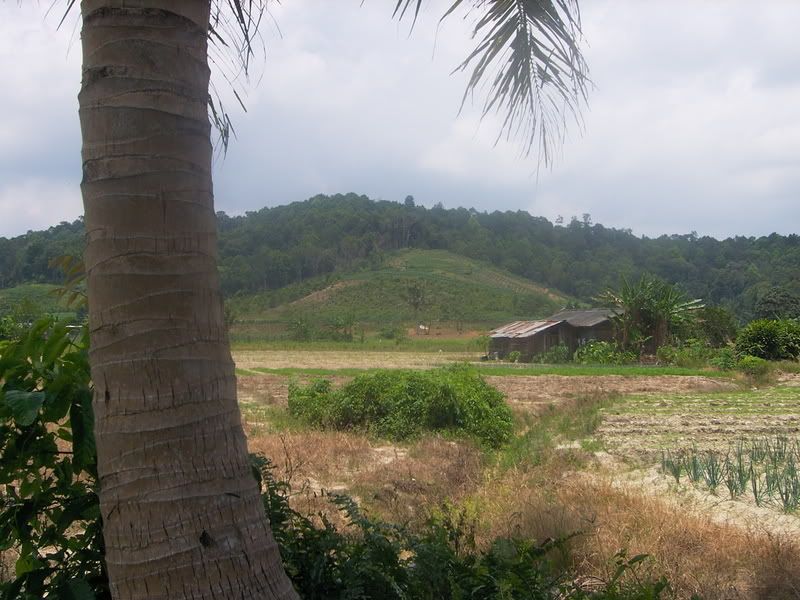 Where I live there are huge low and high tide differences. One morning during low tide as always, there were fishermen doing their daily activities. This morning though, I noticed one with a shark-like animal. I went down their, and yes, it was a huge sand-shark. It was over 4 feet long, and the man was hoping to sell it for about $20 to $30 at the market.
(the ocean is amazing whats inside of it)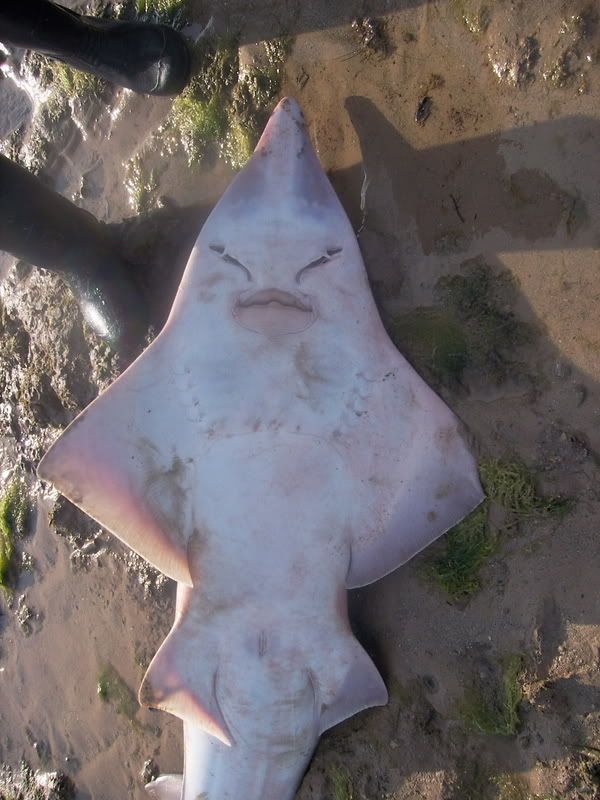 After a huge scare, things always turn out on top. One day I loose my job, visa, money, drivers license, and I have to leave the country. I had the meeting that night, and new I should go, although I had to leave Indonesia the next day. When I entered it was song 29 "Forward you Witnesses" and it seems like the friends sang extra loud that night. I had all of my above listed problems because I am a witness. I knew it was just what the doctor ordered. Then came the announcement: "The west congregation is building a new Kingdom Hall as directed under the 'Lands with Limited Resource Fund.' You know the one? Your circuit overseer described it a few visits ago via DVD. Well here in Indonesia, we are under that program.
Thanks for your help. $20.00 goes a long way when you calculate the exchange rate.
Anyways, so I worked construction in the U.S. and 1 year at the Assembly Hall in N.J. up until the day I came to Indonesia. What did I do at Stanley? Brick Work. How do the build the KH's here in Indonesia? Brick.
When did the project start? Immediately. Good timing yes? I also found a job that gives me more flexibility for preaching as well.
(this will be a place for worship??)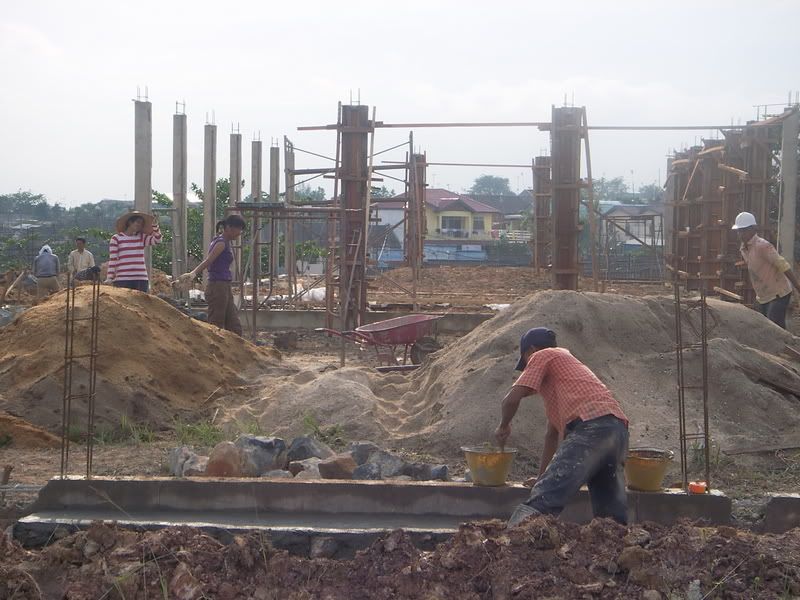 Want to come? Email me personally and I will send you the application form. It's going on through June. You can stay here.
Want to come? Email me personally and I will send you the application form. It's going on through June. You can stay here.
(the saturday crew...)
Well, what do you do when you go and preach to deaf in all Muslim villages? Become their friend. How do you do that? Give them something to laugh about. I'm actually not joking, this really works.
(Topic of conversation)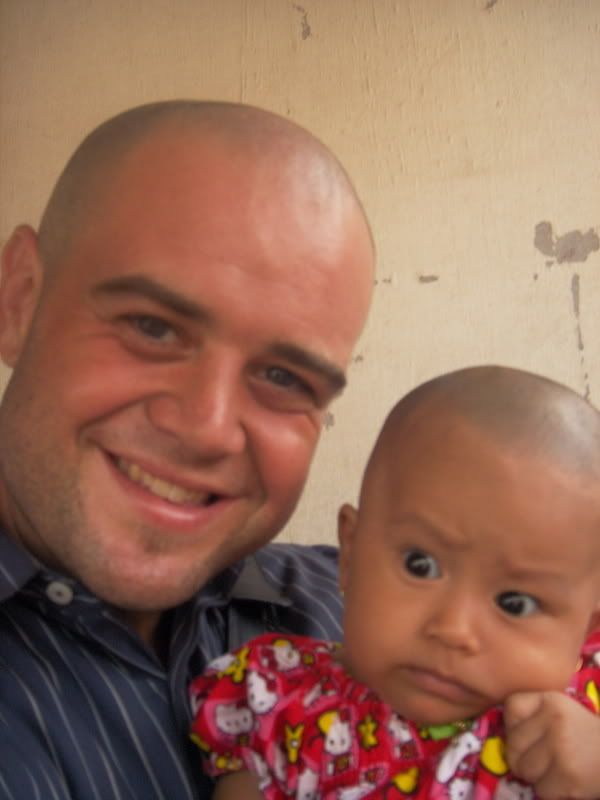 ALL THE BEST! Hope you had a record-breaking memorial.