Perspective. That is truly something that changes when you leave your home surroundings.
(Sometimes things can be more unique from a different angle)
This picture was from my recent ferry ride from Batam to Medan. What is that? That's the ocean, sunset, and the sky from the reflection of the fog light on the ferryboat.
Here in Indonesia, the perception of the value of life is very low. I'm sure you heard about the recent ferry fire that killed 48 people so far. The ferry runs from Jakarta then goes to Bangka. I'm supposed to go to Bangka this month for visiting the Sign Language group. The ferry that I was on though, is from Jakarta stops in Batam, then goes to Medan a large city in northern Sumatra.
The ferry was 3 hours late, which is typical. I found out later the reason that it was late is there was a fire down below with the oil. (That's always good and healthy) That was not on the news. The next night we stopped for 2 hours in the middle of the ocean to do a "engine cleaning." Now I don't know if its normal to stop in the middle of the Andaman Sea in the middle of the night to clean a boat's engine, but it did.
We also picked up some passengers in the night. Now as you look at this photo you can understand why when there is a tragedy so many people die.
(Do you think they have life rafts for all those people?)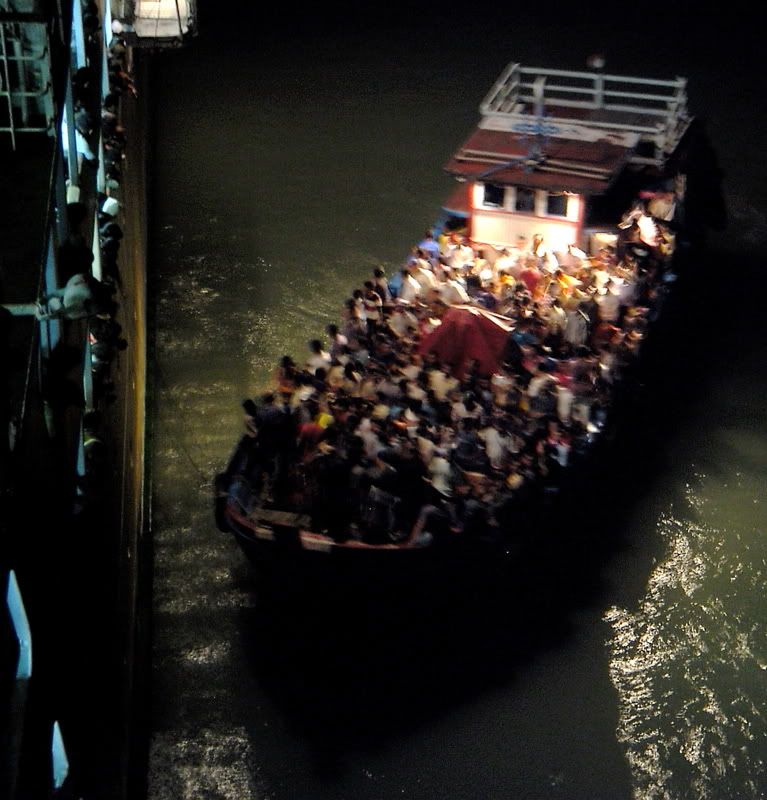 Anyways, I arrived in Medan after placing all of my literature, books, and tracks that I had. The boat was like a scene from photos of the depression. People sleeping on the stairs, smoke everywhere, toilets that haven't been cleaned. It was an experience. So they took EVERY piece of literature that I had. When you arrive at the ferry dock that is an experience in itself. It's almost as if the people don't expect their loved ones to make it. Then theirs cops stopping people trying to steal luggage. It was something.
(We made it, were not dead, you can smile!)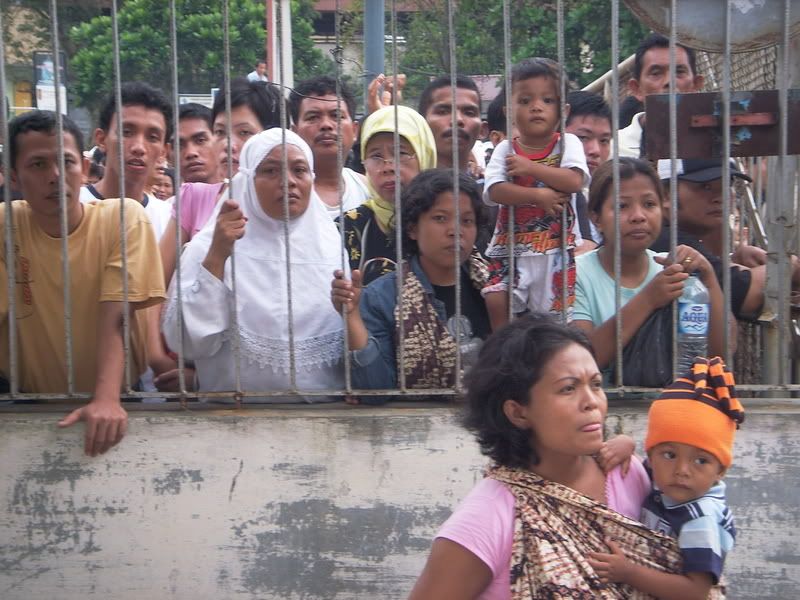 Because of the boat being late, I missed my purpose of going to Medan, which was to go to the Interpreted SL assembly, help out, and then conduct the workshop. It was really nice as Monday was a holiday and was able to at least teach the workshop. Medan was the second city that received a Sign Language class back in 2004. But because of never becoming a congregation, and the friends going to two meetings, the numbers of hearing publishers has dwindled down. BUT, the deaf still come! They have the most deaf publishers in the country with 6 and 3 of those will be baptized in June. One of them will be the first deaf muslim to accept the truth here. He started attending the Bible Stories Book, and he said he enjoyed it, and knew this was different. I am confident he will not be the last to feel that way.
(The deaf attending the meetings in Medan, with their sign names)
This past weekend the 25th was the concluding class in Malang Java Indonesia. (2 hours away from Surabaya) For the 46 students this would be their first time ever interpreting. Now, I don't know about you, but after 20 hours of learning a new language, I don't think I would be ready to interpret a meeting!
That is our situation here though in Indonesia. You get thrown right in! Their were 121 people at the meeting. And a amazing 34 deaf came! 34! You must understand something why this number is so incredible. The first ever interpreted meeting in this city was December 17 with 5 deaf attending. Noone had ever even preached to deaf before or had deaf studies or RV's. Now February 25th some 2 months later there are 34. Most were Muslim. They just had a local deaf organization meeting, and nearly all their came.
So what is one too do? I had conducted half of my workshop prior to the meeting, so now it was time to finish the other half. Obviously it had to be completely adapted to try and explain who we are as JW's, and what the Bible is all about using my prepared video workshop. Perferct timing I assume.
(The men in black are back!)
So what to do next? Joice will be moving on to another city to teach a class, I of course went back to Batam. So here you are friends, welcome to SL. You have nearly 90 students who have been around SL, for 3 months, have no prior exp, no deaf brothers or sisters, no one with any deaf cultural experience, no one taking the lead as of yet, no book study, or set day for preaching, and 34 deaf coming to an interpreted meeting of people who have never interpreted!!! Does that constitute a need? Does that constitute a complete reliance of Jehovah's holy spirit?!? Oh yeah the population of the city of Malang is 2million plus. That's bigger then Boston, Jersey City, Newark, DesMoines, Tampa, Orlando, Raleigh, Dallas, or any other place that already has Sign Language congregations under 2mil…
One of the nice things about going to these different cities to encourage the friends, is you never know where you will sleep, what local food you will try, or what natural surroundings you might see.
For example Medan is famous for its cakes, juice drinks, and Chinese food. The duck was great, and juices were so fresh. Also the family had 9 dogs! Well I like dogs, and it was good to see some chow-chow's.
(I have a purple tounge, and its not from a lolliepop)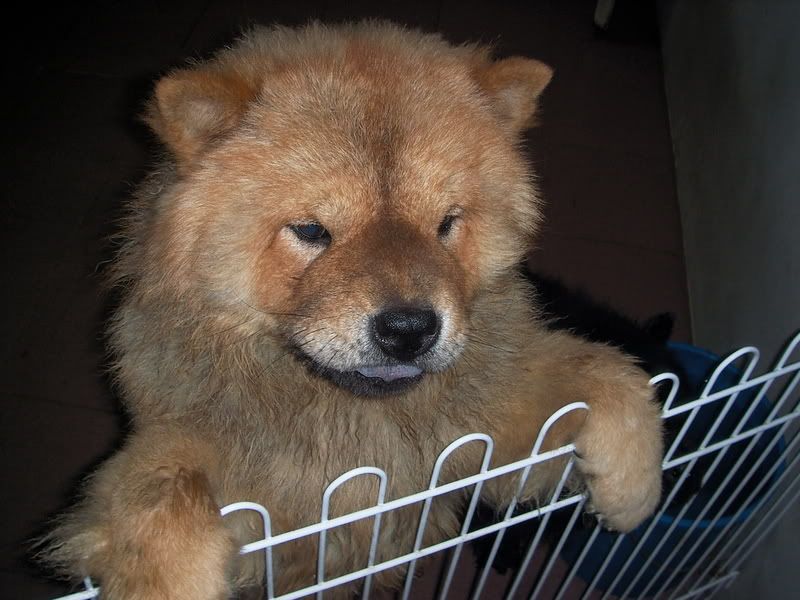 The family I stayed with in Malang, like to eat shrimp. For breakfast. Now, this isn't normal shrimp. Its from Kalimantan or Borneo. It's a freshwater shrimp, or prawn. And, well, its big. In fact it was the same size as my cellphone!!! But, like I said, you never what's gonna happen when you travel.
(Believe it or not, these are not farm grown, and they can be 3 times that size!)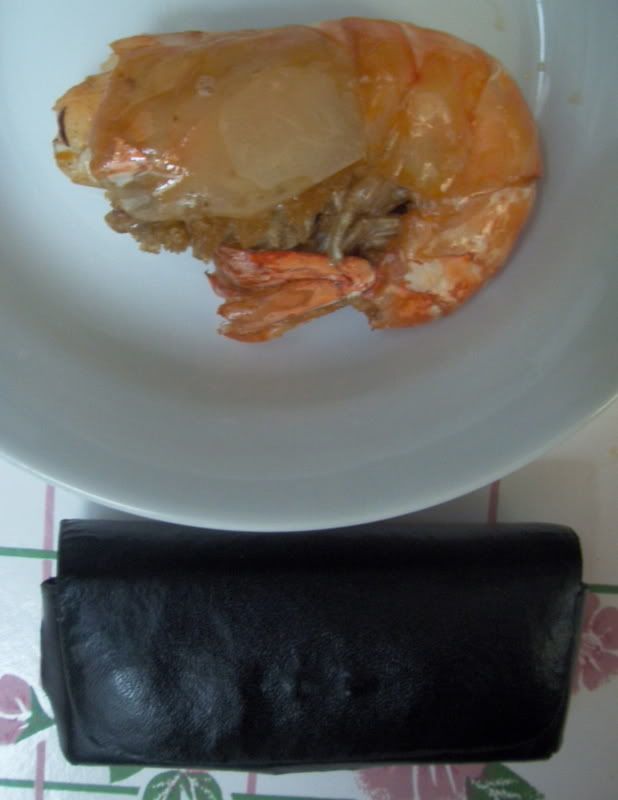 In Malang, I met a brother who was a co for over 25 years. All during the ban. He came in the truth in the 60's. Well, do you know what faith he had before he got the truth? You don't meet a former something that was a c.o.
Pretty neat huh?
(Who I am is not impotant, but who I serve)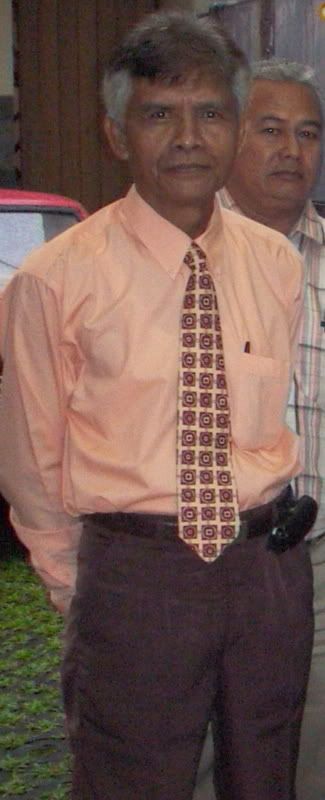 In East Java their are the active Volcanoes on Mt. Bromo and the surrounding areas. It was beautiful to be above the clouds. The more I get a chance to see places in Indonesia, the more it amazes me. In the picture below, on the left is one volcano with the sulphur cloud coming out, then on the right is another volcano that is inactive. Then theirs the crater, and in the background is the largest volcano that erupts every 15 to 20 minutes. It really is awe inspiring to watch the sunrise from the Mt, and see the clouds change the whole landscape every few minutes. (Romans 1:20)
("Life above the clouds")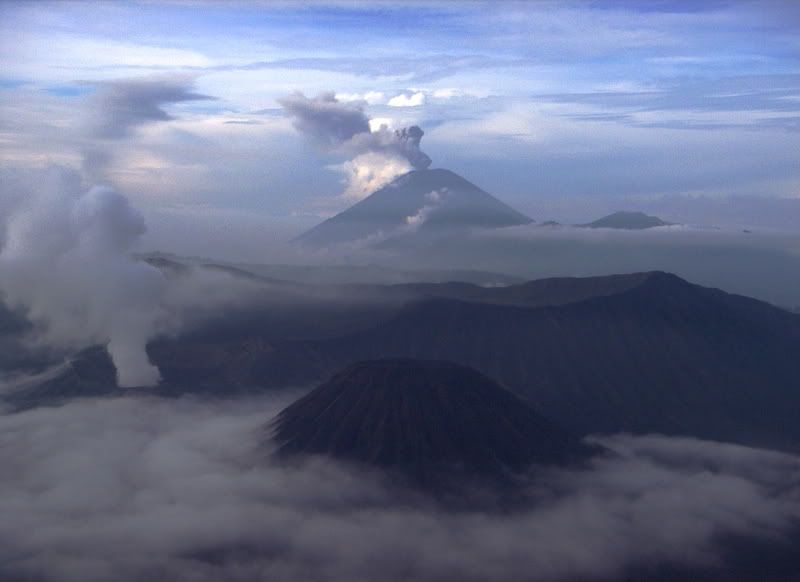 I only stayed do to the recommendation of a Spanish traveler and a Doctor from India who were both their own respective freelance photographers. The Doctor from India, had a nice story for me.
He is from a family of doctors (Dad, mom, his brother, and himself.) He is a specialist with kidney's, intestines. I believe he said a Urologist.
Well, in India there was a man a (Jehovah's Witness) whom for two years had a huge tumor/problem on his kidney. No one anywhere would operate on him, for the obvious reason that there would be a huge likelihood of needing a blood transfusion.
For two years the brother waited. The doctor mentioned that the brother was more educated then they were on the subject. He said "he brought us all of the videos, pamphlets, and information. He was extremely well informed on the issue. We as the staff studied the material." The doctor mentioned that he, and the medical community sees that it is so much better to have the body rejuvenate itself then to have a transfusion. Also now there are so many other ways to perform bloodless surgery. He accepted the brother's wishes and operated on him. The surgery was a success.
A bit of insight he told me is this. Many doctors are not willing to accept a situation like that due to the possibilities of a person dying. When a person dies while you are the surgeon it looks very bad on your record. When the hospital does its reviews, and you have a death on it, it affects promotions, and status in general.
At the same time, if you take a chance, and it goes successful it is highly favorable and makes you looks great. – What it means then basically is a person a conservative doctor, or more liberal. Does he care more about his name.
(A horse, a couple, a Hindu temple, and creation)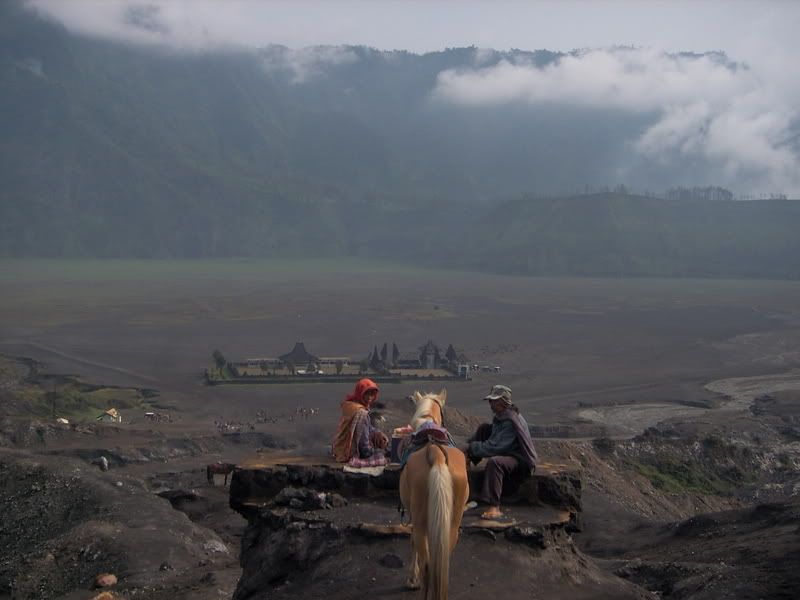 After going to the top of the mountain you really need to take the hike up the old lava flow and see the active volcano. When you walk around, and see the wilderness type surroundings it hits me. The 40 years that Moses spent in the wilderness with some sheep, a staff, and some sandals really allowed him to be molded and ready for the future. In this place you realize how small you are as your surrounded by mountain ranges, desolate land, and no water to speak of. You would have thought that the Israelites would have gotten it through their heads going through the wilderness that without Jehovah, your not making it through this land…
(Take a deep breath)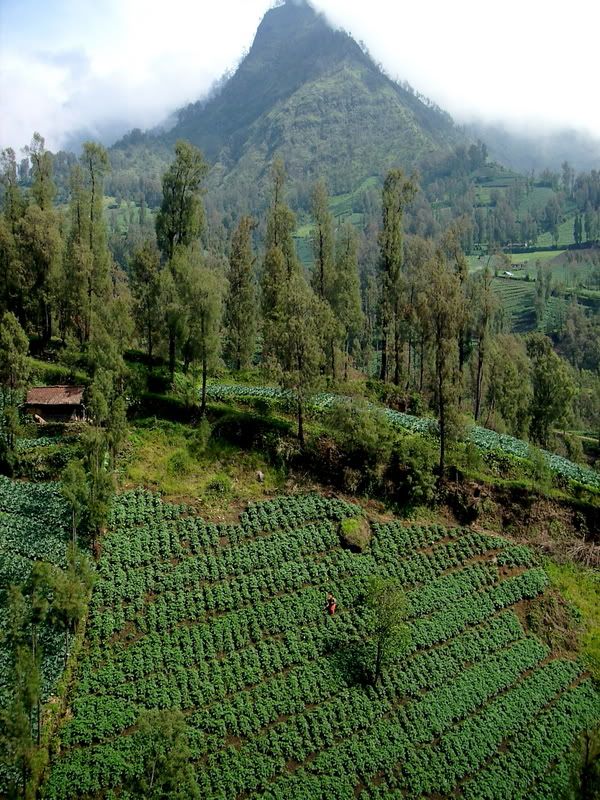 Literally 5 minutes away from this desolate wasteland is absolutely greener that you can imagine. Miles and miles of vegetables, pine trees, flowers, plants, tea, rice fields, and just pure fresh air.
Back here in Batam, service is great. This is a photo of a woman who just lost her husband in death. Well, that's not easy considering she has 4 children aged 7, 3, 2, 4 months.
(Her humble abode)
If you look in the picture you see a huge pile of wires. She goes through the trash, and construction sites to collect all of these discarded wires. She then strips the wires down to the copper insides. Once a month someone comes to her little concrete block house and purchases the copper. This is one of the only jobs she can do as she must take her 4 month year old, 2 year, and 3 year with her. She needs to make $70 a month to survive. She usually makes around $80 US a month. That pays for the food for her and her 4 children, school fees, and electricity. It takes around 2 weeks to find that many wires.
(The 4 month year old had white skin???)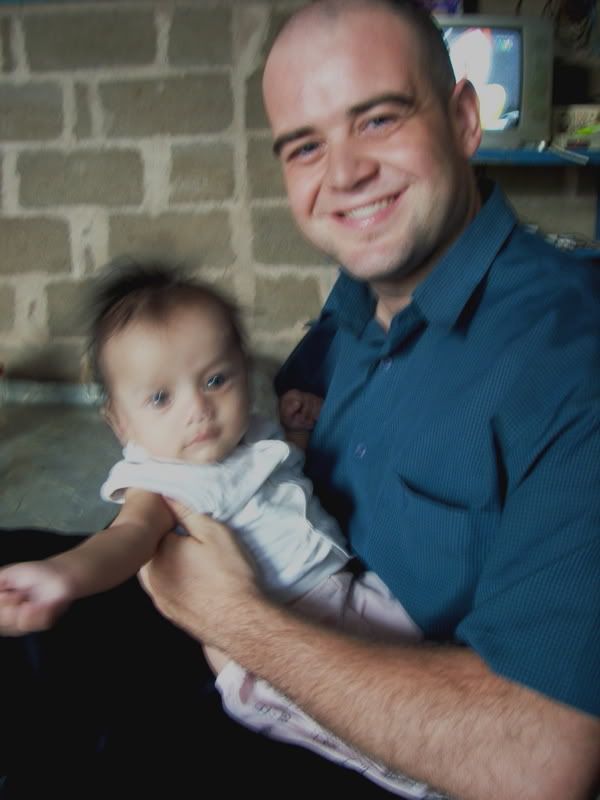 ---
On a personal note, I mentioned before I have a house now here in Batam. Well, the other day while coming home, I noticed a big animal, that wasn't a dog. It was leftover from the Jurassic period! A Komodo Dragon, in my front yard. Well, its in the Komodo family, but its the smaller version. It was only about 4 feet long so no worries right?!?!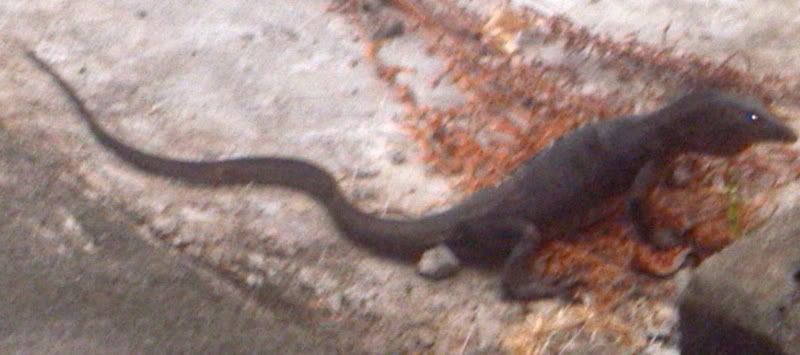 Today, I was just informed by the school I work at that they are not renewing my contract. So, this afternoon I just lost my job, my visa, and must leave the country tommorow. The say all in a day's work right? I'm really sad though as they did not forwarn me in advance so I was not even able to say goodbye to the children. It's amazing how much kids teach you about life, responsibility, paitence, and how Jehovah views us. The kids really grow on you. Their favorite class was for Reading. We were reading the Bible Stories Book and got all the way up to Isreal's last Good King. (Josiah)
I shed a few tears today thinking of them, and left them a message to not forget Jehovah and to remember him.
That's a real powerful book!
I would assume by the next blog you will know what will happen to me. Because as of right now, I personally do not know.
I do know 1 thing.
A good sunset.
Theirs nothing like it.
No matter where you go in the world, theirs always a beautiful sunset to put things in perspective. (Lamentations 3:22,23)