The island of BALI...
What comes to your mind when you here those words? (god's, demons, strange rituals, deaf people?)
Interestingly that is what island is loaded with. Yes, sunsets, beaches, surf, rainforests, animals, coral reefs, mountains, volcanos, waterfalls, are all there too. BUT, not with the enormous presence that this Hindu island presents in its worship of its diety's... Every day they put out offerings of food, and other gifts to the diety's. It's a lot of work to do that 3 times a day. Their little temples have 2 offerings. 1 for the good god, (up on higher ground) the other for the demons. (on the ground) Needless to say, stray dogs and chickens are very healthy from eating the offerings in Bali.
In fact, 1 girl had an offering out, and I asked her to explain to me what it meant. Needless to say it was a very brief and unclear explantion. It was funny, as I asked her how does god become hungry? If he is god, why does he need to eat some rice, flowers, and crackers? AND, why would he need to do this 3 times a day, from millions of people? Wouldnt this god get very fat??? She started laughing, as the thought of god being hungry is hilarious. (she took a brochure)
One more funny tradition. Once a year in March or sometime around, there is a festival/holiday when Bali is shutdown. NOONE goes outside. NOONE works, NOONE turns on the T.V. Why? They believe the demons are flying over Bali, and when they look down and not hear anything or see anything, they will pass over Bali and not bother the people.
Indonesia is the largest Islamic country in the world, but I'll tell you, the power of the demons in Bali is evident. Hinduism there in Bali is involved in the daily routine and way of life. It really is going to be something here in Indonesia when (it) BtheG comes crumbling down like a line of dominos. False beliefs and traditions have a chokehold on millions of millions of people here in Indonesia.
---
(Somehow you can incorporate this picture for preaching with Hindu's. It's done here. It's a strong god, wrestling another god. The god is one of the most powerful wrestling the other god: a snake...
(Genesis 3:15, Revelation 12:9)
(It freaks me out looking at it. It was HUGE in person)
If we are going to look at some pictures of these god's that are here we need to at least look at what the Ultimate God "Jehovah" has done with his creation. (Hindu's as well had a ultimate God that they belived in in Bali (Brahma is the god of creation)
(The clouds, the sun, the ocean)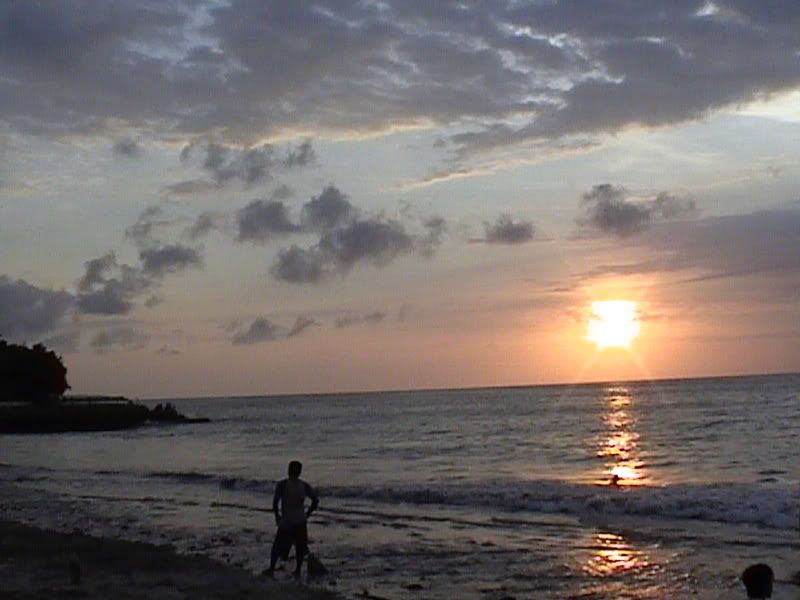 (Sunset's on the beach in bali... PRICELESS)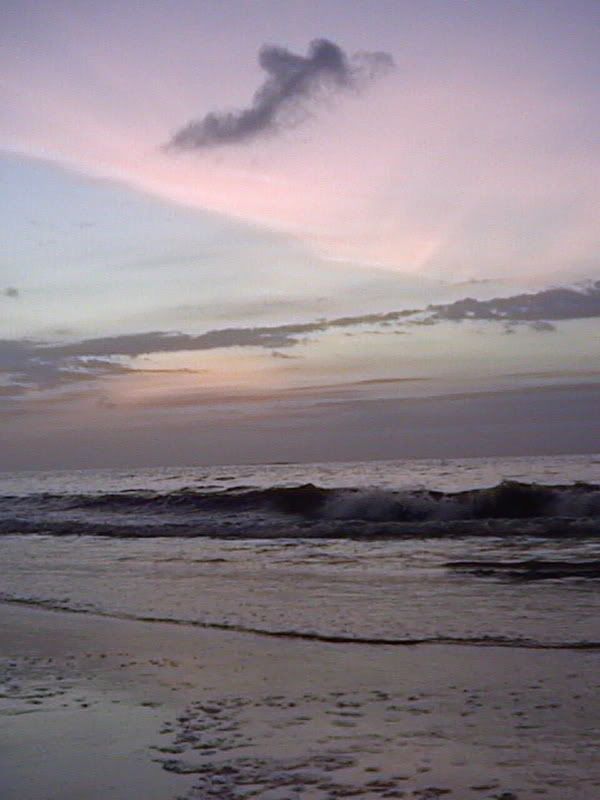 (Yes, it's upsidedown. I like the view backwords)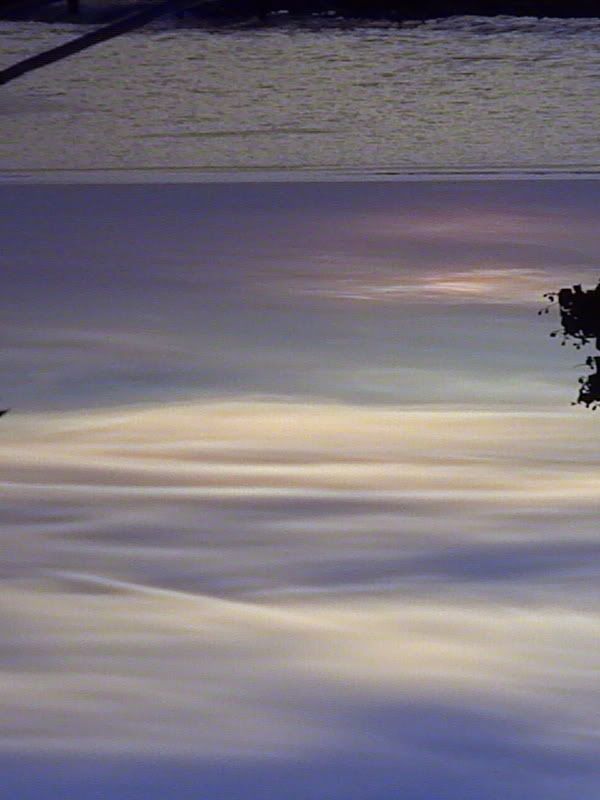 (Same beach, but the next day)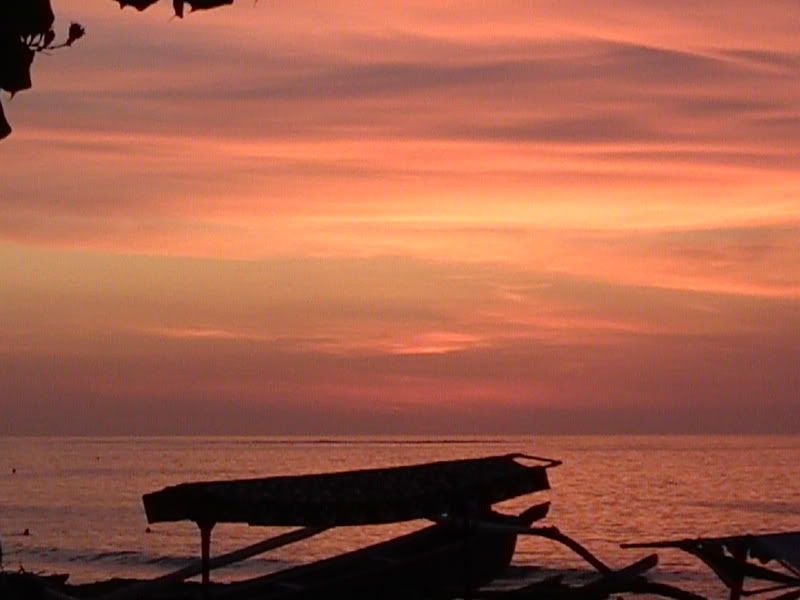 If you go to Bali, you need to see the Monkey Park. They are like the NYC pigeons. NO FEAR, and they will eat anything.
(Mommy and me)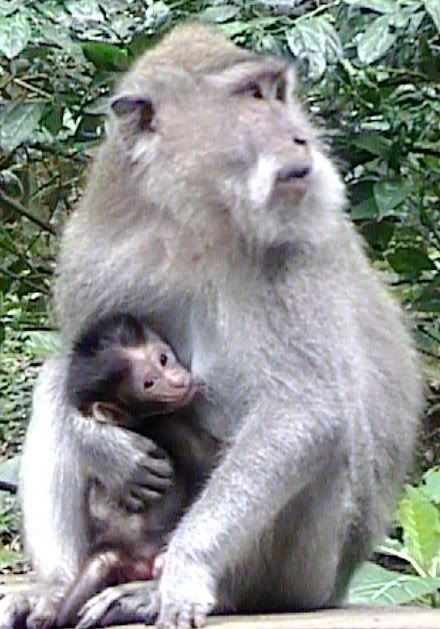 (We won't bite. PROMISE)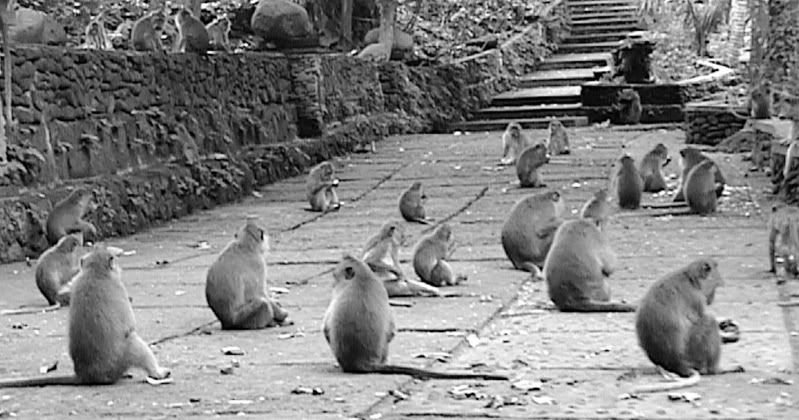 Always good to go to a hall and meet new friends. Well, Denpasar East congregation is shaped like a T. You can't see all the people in the hall. Welcome to Indonesia; Kingdom Halls are in office buildings, peoples houses, car garages, or in the past: The woods. But the people are beautiful. Treasure your KH if you have one.
(I really like this picture. I don't know his name, but he's my brother)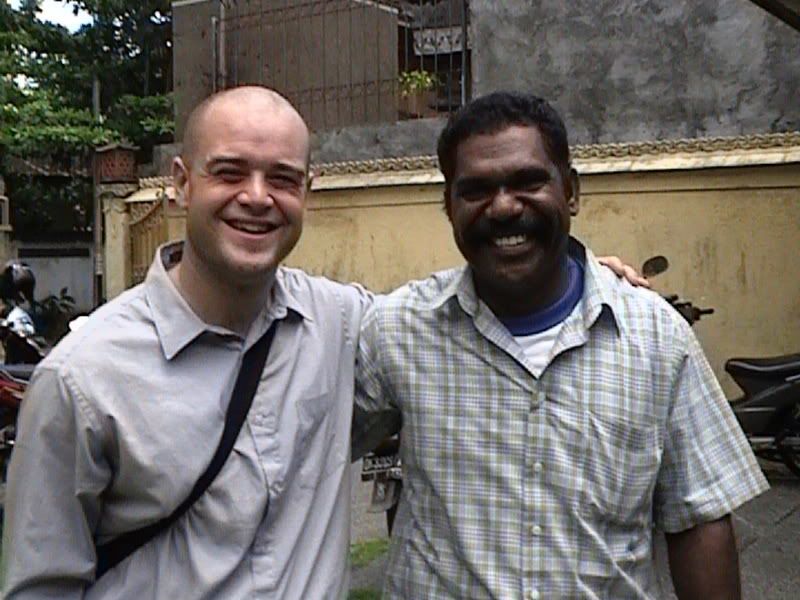 This was the 3rd study with these three young men. Putu the man on the right, and Putut the sister are just finishing a study. I came in the study with just a few minutes left. I asked if they had any questions. They did. It was about a word in the Enjoy Life Brochure that deals with spiritsm, but is not a common word. (juju) I had to act out juju as there's no sign for it. Even in English I can't really describe juju. It shows the importance in Sign Language to use concepts, ideas, expressions, acting, and not focusing on a word for sign translation.
(This study was nice as it was done outside under a thatched roof)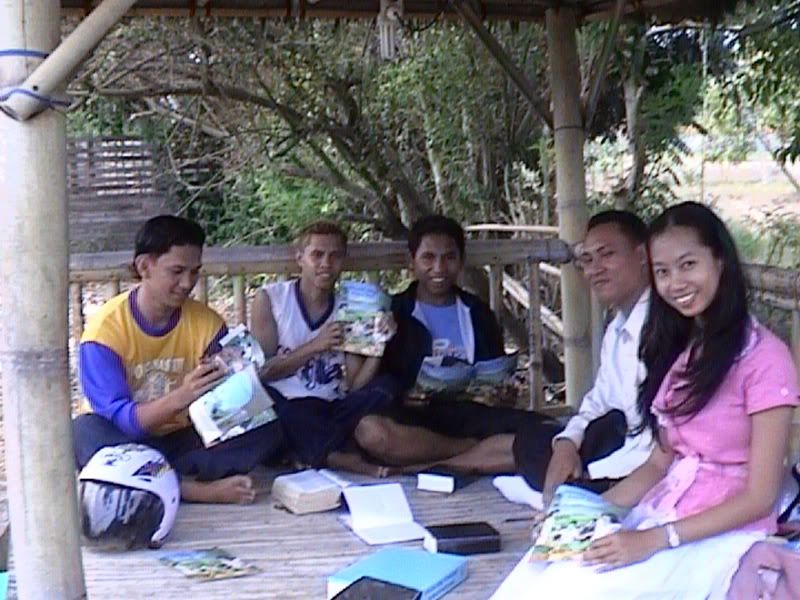 (Behind the thatched roofs are "holy cows")
Cows in the Hindu religion have a good life. Cleanest cows you will ever see.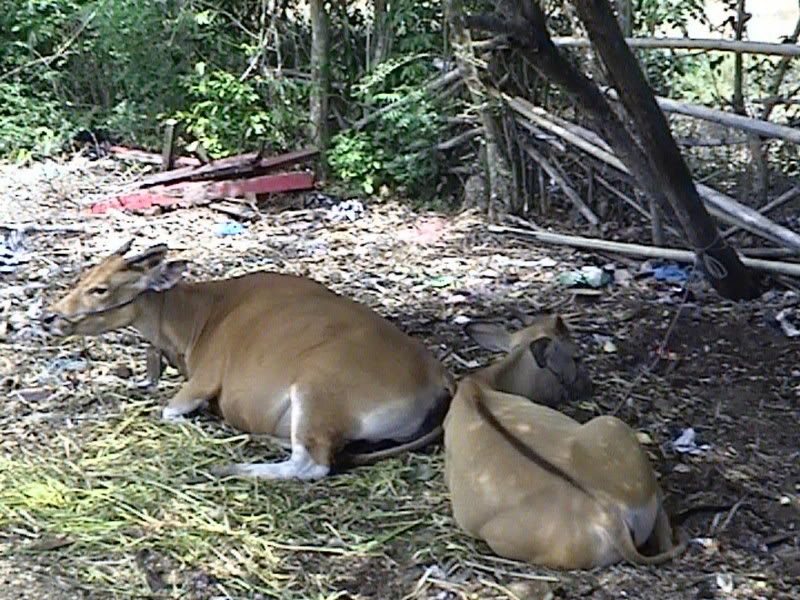 This was so encouraging to me. This was a Return Visit. What? A return visit? On June 3rd 2004 I met this deaf woman working at a McDonalds in Bali. Her Sign Language was different was than what we used in Jakarta, but we could communicate. Even the ABC's were different. Well here it was December 3rd 2006 and we meet again. She still remembered my name!!! Amazing some deaf people. She was mad I forgot hers! But she remembered me, and my story. WoW. Well now there are 2 deaf people that work at this McDonalds. Go figure!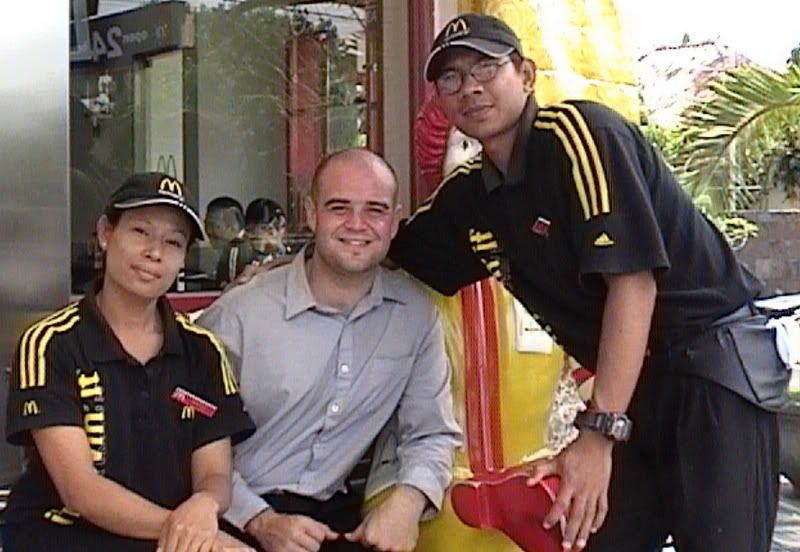 Remember those boys who studied outside? Well I asked 1 to come to the meeting that night for the bookstudy. He accepted, and brought 3 friends along! The power of just asking, and being a foreigner in another country assisting the spread of the good news! I expected Putu and Putut to interpret. Both declined.
This was so hard. I am not an interpreter. Never tried to be one. It is so difficult too when your translating from a language that is your 5th language and do not speak properly, or understand fully. You are not clear, your trying to figure out what is being said. For me, I have to translate from Indonesian to English. From English then translate to ASL, from ASL translate into Indonesian Sign Language. You need to do this in all in a matter of a second or two. It didn't matter to these 4 deaf boys. They were so happy just to be part of a meeting that they could at least understand somewhat. After the meeting, I did a quick workshop with some that had learned some sign.
It was unbelievable to me while conducting the workshop that the deaf were the ones who new the answers about the story of David and Goliath. The local friends were slower than the deaf, although the story was unfamiliar to the deaf. They understood the concept and expression of the story.
(Thanks for finishing my trip on a high note!!!)
The brother on the left is a local Balinese elder who has learned some sign.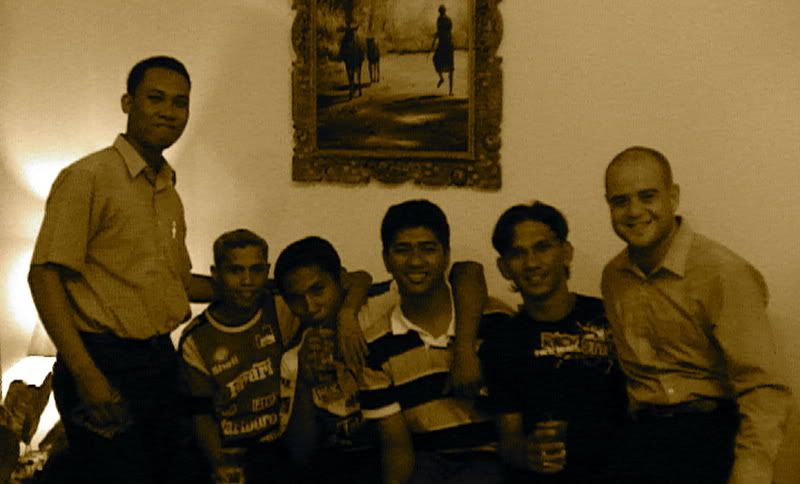 Back to Batam
-In my opinion, most modernized, and organized country in the world. YET, still does not allow rights to conscienous objectors for military service. Right now as you look at this picture, there are young men from 18-21 in prison because their conscience will not allow them to be involved with anything that could kill or hurt another human.
(Singapore from my room)

Sunsets here in Batam are getting better now that the fires have stopped burning.
1997 Awake talked about fires in Sumatra and Kalimatan affect some 20,000,000 people in 7 countries. Well 9 years later there still is a haze in Indonesia from July/August - November because of fire burning of crops at the end of the year. A newspaper mentioned that during those 4 months, that at least 1000 wild orangutans were killed because of fire related reasons. There nearly extinct in the wild.
Well, now that it's clear and we have a sunset, I will try and take advantage of it.
(It's OK mom, the water is over 25feet deep)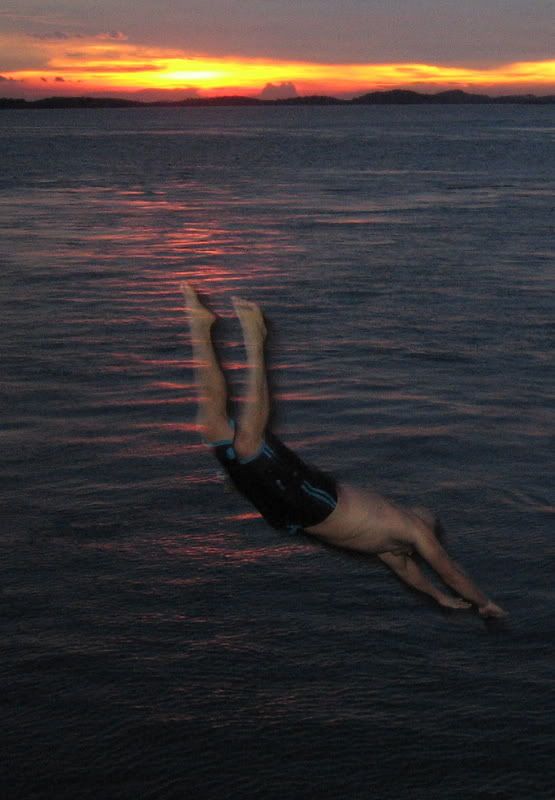 That's all from Indonesia right now. I won't update this for around 1 month. Not until after I attend the last, (or one of the last) district conventions: "Deliverence at Hand" in Manila Philipines. This is conducted in ASL with FSL. Until then, take care and stay busy.