The Good
How good to see old friends!
It had been two and a half years but finally got back to Jakarta, the deaf, and Bethel. It was nice on Friday night a few weeks ago Bethel allowed me to stay as an overnite guest. Seeing brothers there who are still busy and doing there thing was great. They have soooo much going on there. Legal department and construction office have there hands full. Why? Because the gov't officials want their HANDS FULL. Welcome to Indonesia. Always in the top 3 year after year for corruption. And it affects the speed at which things can get done.
It worked out wonderfully as a brother that is in Bethel was going to Bandung. A city in Western Java right outside these beautiful mountain ranges. So nice to see mountains. Here's some clips of what western java looks like.
(50 seconds of East Java)
I was heading to Bandung to conduct another Sign Language workshop. There an official group in Bandung. It's funny, it is so clear the difference age makes in learning a new language. The younger people get it so fast. The DVD's in Sign Langauge open up there eyes to the beauty of the language. They get the idea of how you need to use expression, feelings, comparisons, and body movement.
The older friends who started learning at the same time sometimes start dosing off into 'sleep world' during the class. It's funny. If you are "older" and learning a language. Don't give up. Just realize you don't run as fast as the other bunnies.
(Say cheese Bandung)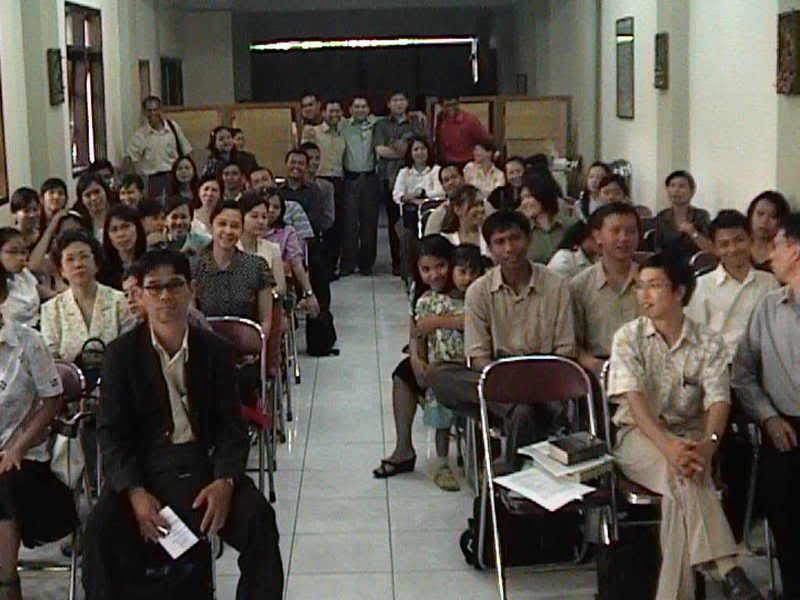 (Thanks for letting me stay! Keep up with SL)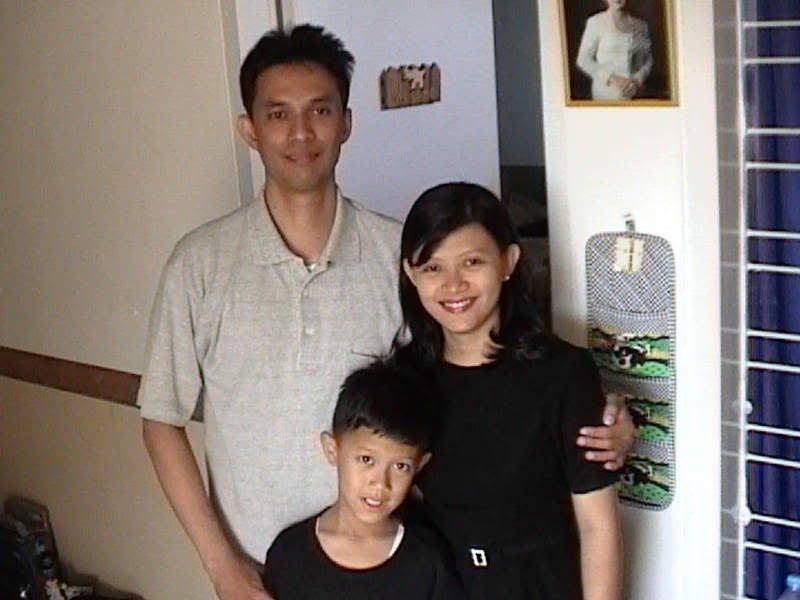 That night a group of 10 of us from the class went to Bandung's famous "Hot Springs." Just like Japan's hot springs where warm water mixed with some sulpher naturally comes up to the surface. It is incredibly thearaputic. The next morning it was...
Back to Jakarta... I lived in Jakarta back in 2004 for nearly 6 months. I went back to my old apt building and there was a few that were still there from before. The one chinese woman who is christian yelled, it's the PASTOR. The other ones said, no it's the white guy who wheres the sarung!
More important it was back to Jakarta Sign Language. In Nov 2003 when the first class of 7 students was conducted there were only 2 deaf baptised publishers in the country. Herman and Anzella. A brother and sister ironically. BOTH did not know any sign language. They were oral and would lip read at the meeting to the best of there ability. April 2004 saw the formation of the first SL group in Indonesia. I had not seen the brothers and sisters in the group since the last day of the 2004 Walk With God district convention on May 31st 2004. How did the group look?
Here's a couple of photos of deaf who had talks in the Theocratic School.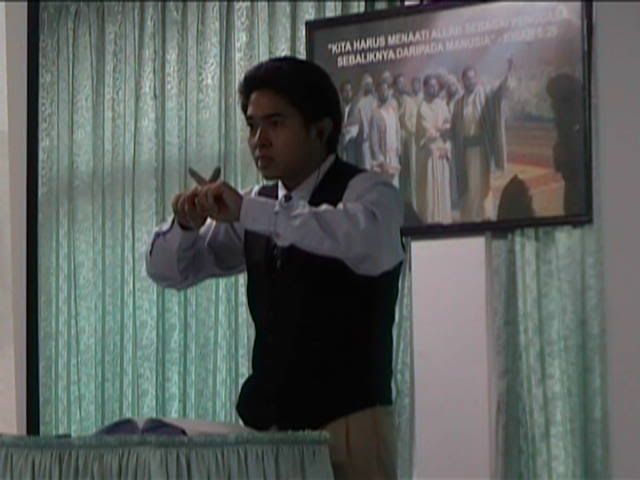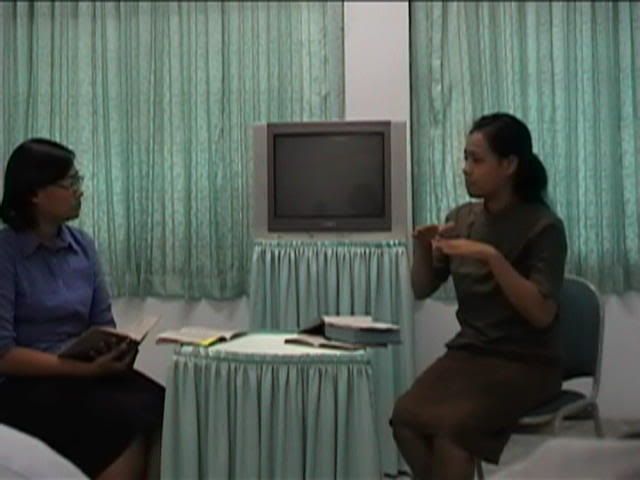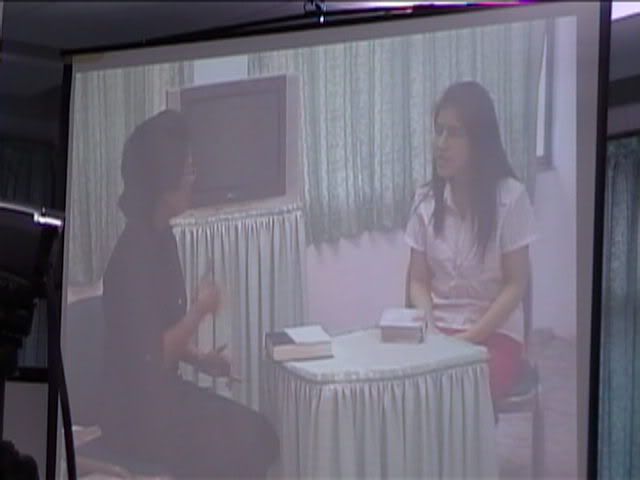 I'll tell you what. That week was the first time the meeting was the Public talk, WT, bookstudy, and Theocratic School all in 1 day~~~! Amazing. But even more amazing was how Herman signed the paragraphs for the bookstudy. His signing was so clear, understandable, and he translated the written Indonesian word into Indonesian Sign like a proffesional. That is extremely rare for a deaf person in Indoneisa. In fact worldwide many deaf have a hard time taking the written words and put it into Sign Language structure. He used concept, ideas, role shifts, character development, and proper pausing and sense stress. It brought some tears to my eyes. To think just a few years before he didn't know 1 sign.
After he told me a sad story. He told me the brothers who give the talks and take the lead have yet to start signing in concepts and ideas, but continue to sign word for word. Or in Indonesian (KATA KATA)
He told me, he has a hard time understanding what they are explaining, it is not deep, and it's boring.
(Herman doing his thing)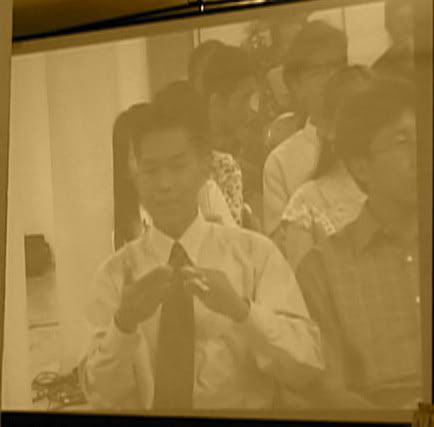 That told me a lot. Truly Sign Language is a deaf person's language. Just by how fast Herman has grasped the language with no tools to help him via (DVD, VCD, deaf schools, workshops, or meetings) ALSO, how important it is for us as a hearing person to sign and think the way a deaf person thinks. Word for Word Indonesian with signs is not the same as Sign Language.
The Bad
The bad news was I was in a Motorcycle accident after returning to Batam. I was making a right turn onto the road of the Kingdom Hall, when another motorcycle driver didn't see my signal, and proceeded to slam into me full speed as I was turning right into the hall.
Fortunatly, I bought a bigger than normal Motorcycle for Indonesian standards. He slid right underme and my bike went ontop of his. Then people in the hall heard it, and came rushing out. We had a speaker from Bethel at the hall (Tagor and Milly) so it was packed. At least 50 brothers and sisters came rushing out of the hall to help! It was so beautiful as usuallly in Indonesia, it's the person who yells the loudest is the one who get's paid. And, well, foreigners never win.
My hand was all cut up with blood rushing down, and my ankle was hurting so I asked one of the elders to take care of the situation. He did, and it turned out one of the sisters in the hall formely was a nurse. So they treated my hand and ankle, patched me up and I got to get back in the hall about half-way before Tagor finished.
The bike got a little wrecked, but not bad. It was 8 US dollars to get it fixed. And for me, I didnt go to the hospital as I didn't have any rocks or debris in my hand or ankle. I decided to spend 6 US dollars for a 1hr 30 minute full-body massage. Yes, it's that cheap here. They walk on your back, crack your neck, and really do a good job. That's the best hospital in my opinion.
What happened to the guy that was wrong. We helped him out. Treated his wounds. His bike was in bad shape. Unfortunatly for him is that his bike is his work. He's an ojek driver. They give people rides around for a small fee. Basically a motor-cycle taxi. I was happy as I was calm the whole time as I had been listening to Kingdom Melodies on my MP3 player. (It's a habit when going to the meetings)
I ended up placing a Bible Teach book with him. He was shocked as he was wrong and I was giving him a book for free.
I will see him again later.
The Better
Bethel Indonesian called are congregation in Batam Selatan to let us know that for the month of October we had placed more KN number 37 tracks then any other congregation in Indonesia! That was pretty cool. I feel like switching congregations! They don't need help here! j/k That's whats crazy. We still have ISLANDS AND ISLANDS that have not been touched, and yet we gave out the most. WOW, that's a handful.
Lastly, I want to say thanks to many people who have left comments on this blog. Really encouraging to me. In 2003 and 2004 I had a little trip and would send out these long emails of stories and such. I realized later that most people do not have time to read long emails, nor do they have the same impact as if you are there in reality. Technology has changed and a blog is an easy way to share stories, photos, and videos with friend that create more of an impact.
I established this blog for a few reasons. Mainly so my family and close friends can stay in touch, and see a little what life is like here. The other reason is to say hey! Are you looking to go somewhere? Try something new? Want to serve where the need is great? Go through the proper channels of course, but WOW have you ever thought of Asia? Look in the yearbook and see this whole area of the world. India, Nepal, Bangledesh, Thailand, Cambodia, Mongolia, Indonesia, Malaysia. These areas are just so ripe. I just wanted to show a small part of a different side of the coin that we don't hear from too much. Indonesia.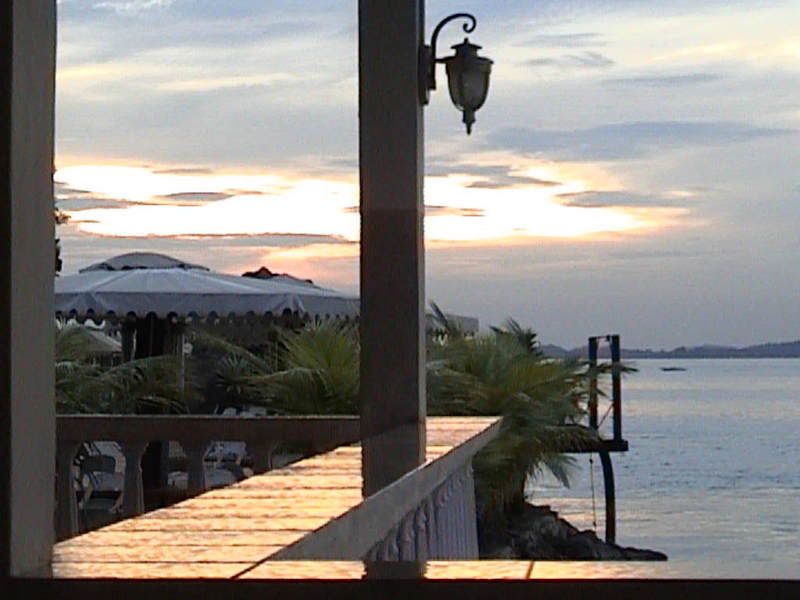 These pictures and videos are not fake. I didn't create them with Adobe, or make a movie set of a Kampung. I didn't get a bunch of Indonesian's to put on police outfits and take a picture. No, it is what it is. If you feel that you shouldn't forward the address of this site, or that I should not record these stories... (I completly leave that up to you) Thank you very much for the comments, but for now i'm going to let them go to sleep. Some people like coffee, some people drink tea. I would hope though the coffee drinker doesn't tell the tea drinker that he should stop. Or that the tea drinker doesn't say coffee is bad for you. It's better than for the coffee drinker and the tea drinker to be friends. To work as a team. Because both realize it's no good to drink from the toilet!
All the best.
Tom