Surabaya-
(A lot of these guys peddlin around)
Back in September we had the special day assembly. They interpreted the program into Indonesian Sign Language. There were 7 deaf people there.
I hope this works, its' a quick video clip from one of the songs. Maybe ready on Monday or Tuesday.
Last weekend I headed to the city of Surabaya for 2 days. Dear sister Joice has been teaching Sign Language for 2 and a half years now. Hundreds and Hundreds of brothers and sisters have learned. Surabaya had 5 classes. Saturday and Sunday marked the last classes for 4 and 5.
Joice invited me to come down to give a (special lecture) (really teaching expressions and concepts of Sign Language.)
It was really awesome as the 5 classes started back in March, and nearly every student (including extra deaf) came to class.
Saturday had some 50-60 people, (Joice and class 4) Paintings on wall hand painted by a Bible Study)
and Sunday over 100.
I used Sign Language the whole class until the last 5 minutes or so. The reason was to explain to them the video they were about to watch. The Greatest Man DVD in ASL has a heart-touching part about Jesus on the stake, and the repented criminal next to him. Needless to say, although the Sign Languages are different, they understood the feeliing and power of those verses. It was amazing as some of them even began to cry as they were so touched by seeing the expression and feelings of Jesus.
***** The beauty and depth that only Sign Language can show******
(Class Dismissed)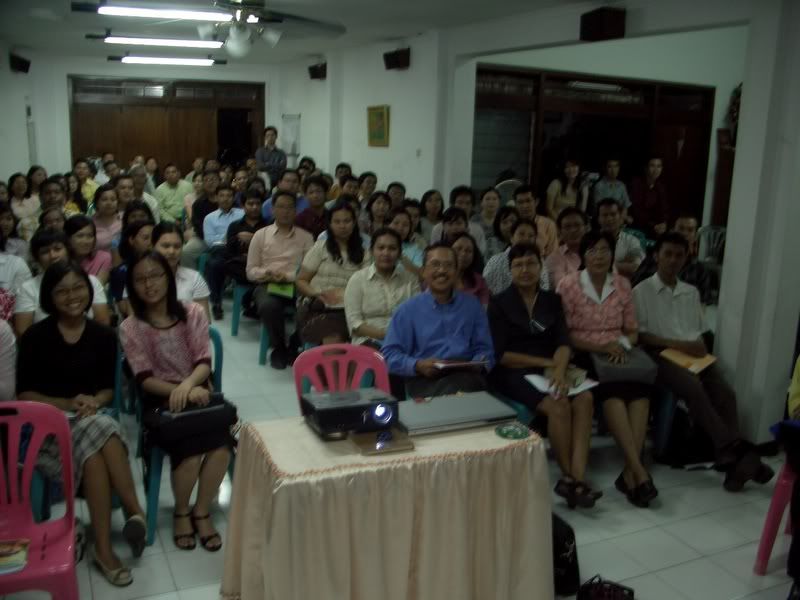 In Surabaya is a city of 3 million people. One night I stayed with a family who are all studying. The 3 boys are all deaf, and all study. Mom studies, and so does Dad. Amazingly the 12 year old boy is progressing the fastest. It was FUN, as they showed me a great time.
(We ATE some DUCKY's and A PIG)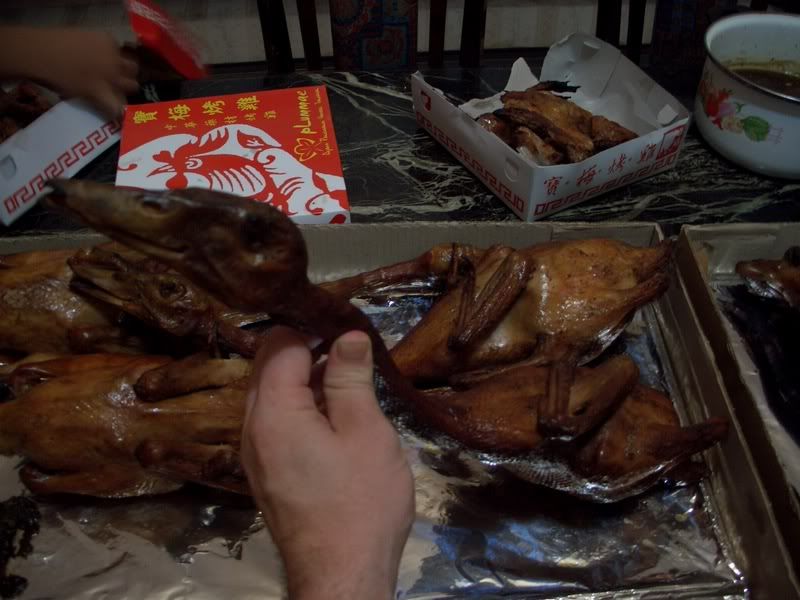 Then they took me to a Waterfall in East Java. Here's the family, and another deaf kids who is studying. Then 2 brothers who came with us from the Hall.
(It's GREEN in Java)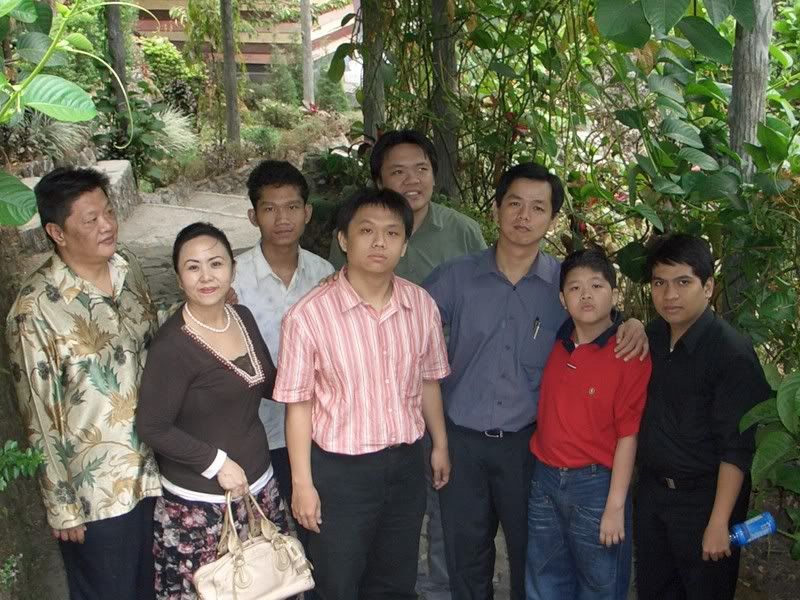 (Surrounding Mountains)
(Step up to Adventure)
(WATERFALL? Up the stairs)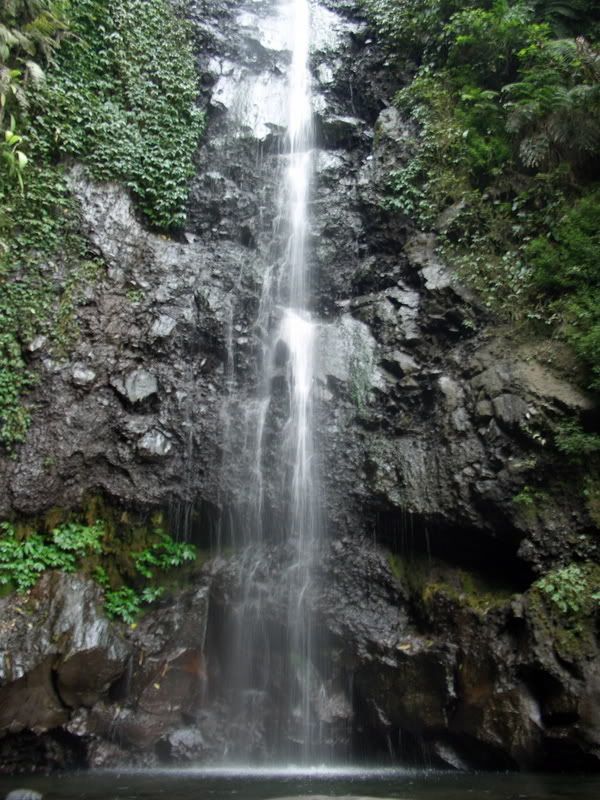 In Indonesia you can always get food. It's on the streets, on motorbikes, in the back of cars, peoples houses, everywhere. WOW its good too! Here is a Man making Satay. Traditional Indonesian Dish. Basically Chicken, Beef, or Lamb on a stick roasted over a fire, then soaked in a Fresh Peanut Sauce with a cucumber or too over some sliced Potatoes.
(ALL FOR A COUPLE OF BUCKS!!!)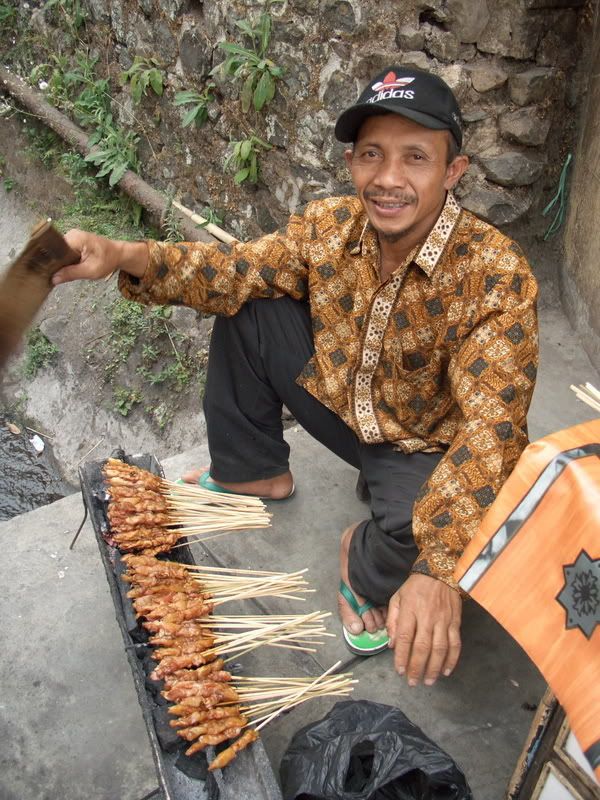 (Raw CHICKEN on the Street, NOT ME!)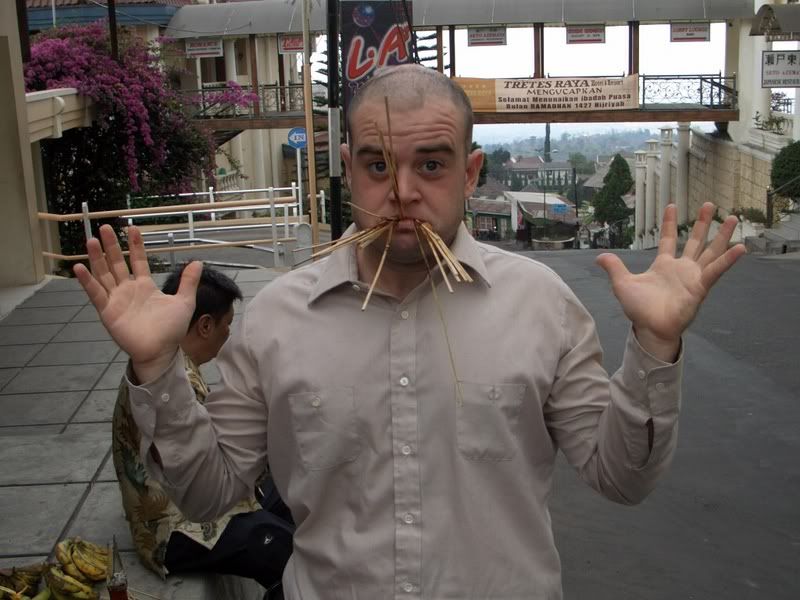 (A real Restaurant after the class, Traditional style)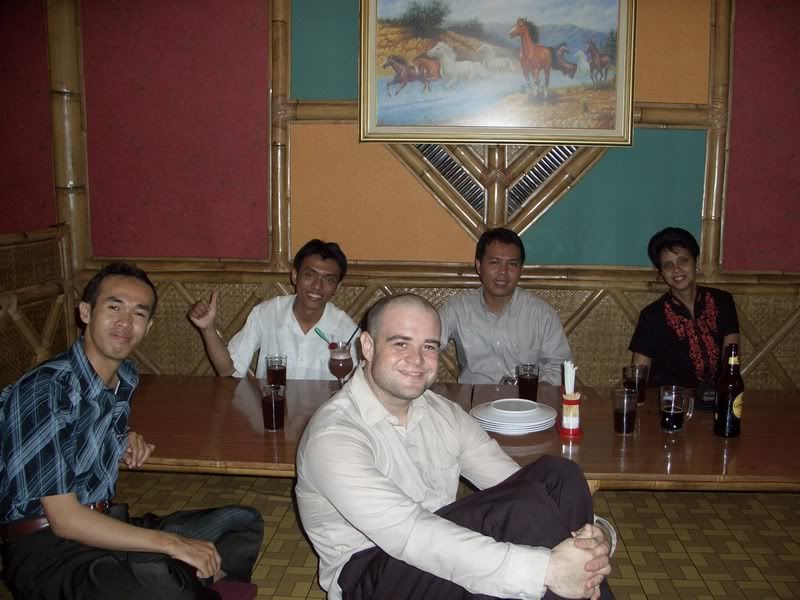 Not everything is pretty in this side of the world. Sad to say people live in utter poverty. These houses run along the open air sewage drainage.
(House after House)
(Transportation for 4) (small baby in the women's arm)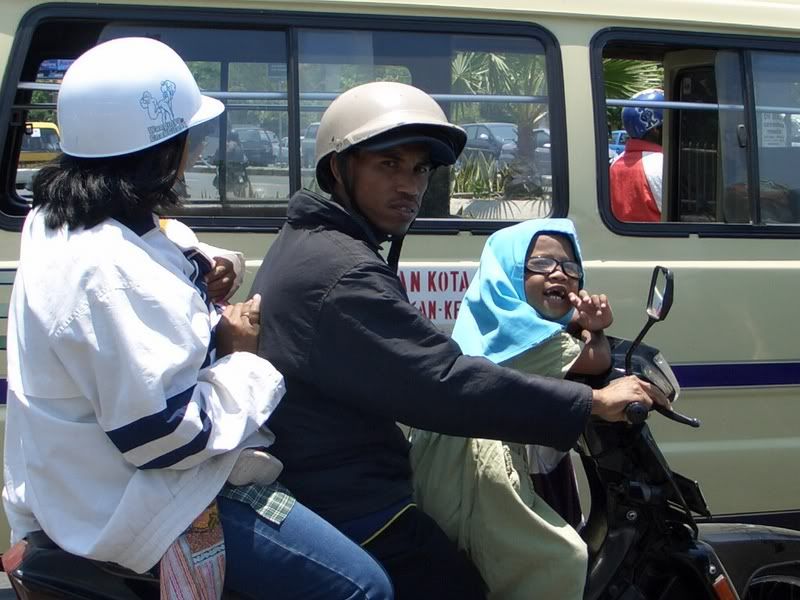 Surabaya recently had a awful tragedy. They hit a natural gas gesier of sorts digging where they shouldnt have. It made mud, gas, and water gush up from under the earth. 1000's were evecuated and MANY died because of man's stupidity. Probably did not hit news in your area did it. Basically for people who know "Ole' Faithful" in United States, it would be like digging into that. Then just that erupting nonstop with just mud coming out.
(ADUH!!! BODOH)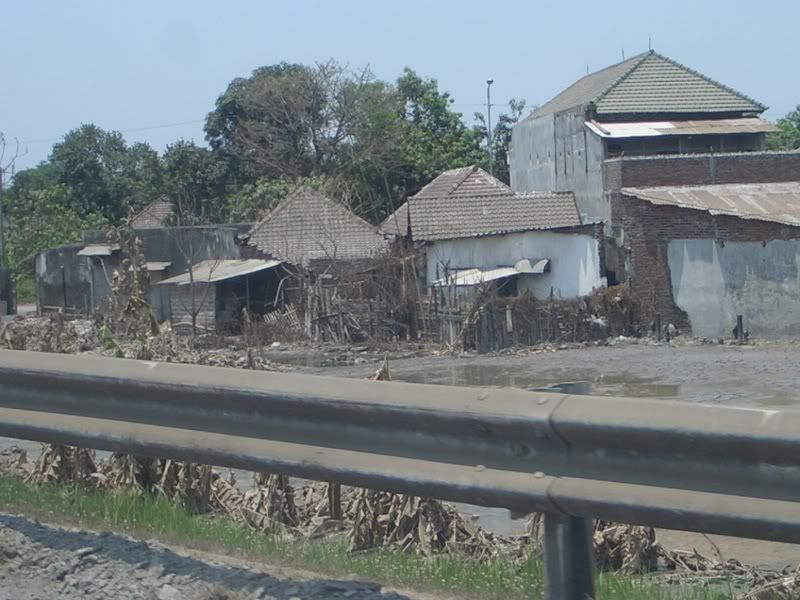 (THE LAND GETS A BOOBOO)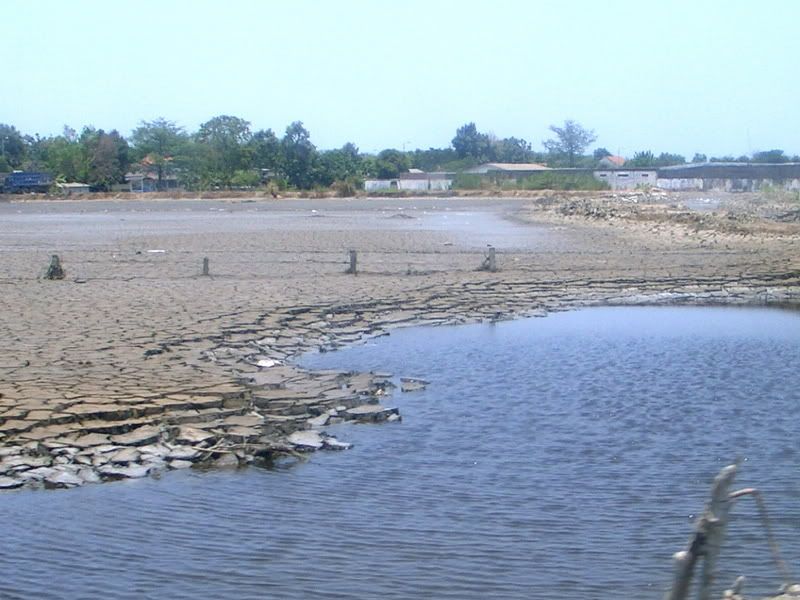 Last neat story from Surabaya. This is a Circuit Overseer, wife, and Son. SON? Yes, they have been in circuit work for close to 20years. Well during that time they had a son while Indonesia was underban. Did they stop? Well, during the Ban on Jehovah's Witnesses it made more sense for them to stay in the work and raise their son. So he goes from hall to hall with his parents but during the day he goes to school. SO I guess he's a 15 year old Circuit Overseer. Pretty neat growing up in Full-Time Service.
(15 year old single CO)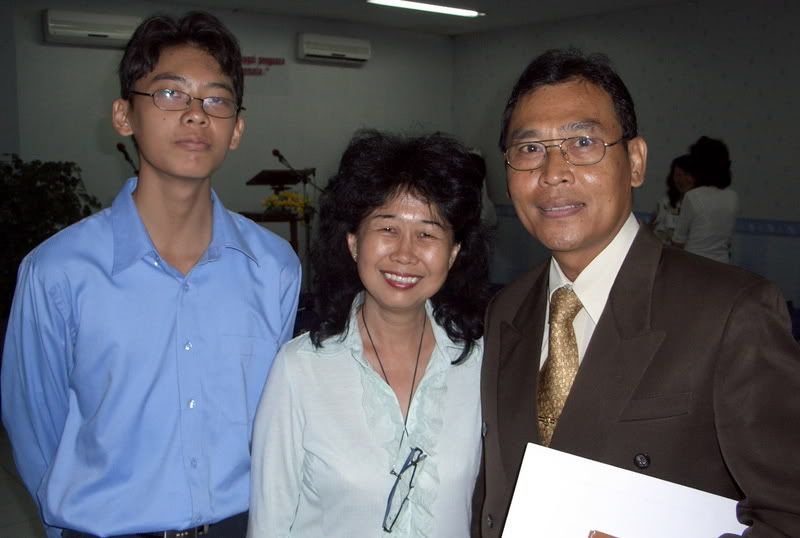 OK, enjoy the campaign. I will not be on the computer for a week or so. I will try and update this sometime around the 1st of November. We are buying a boat and spreading the campaign to islands that have not been preached too. Hopefully I will make it back in one piece, not in a lifejacket! Check back then, from stories of the campaign and Ramadah in a Muslim country. THATS Something!
ALL the best.
Tom